Oh Fibber…..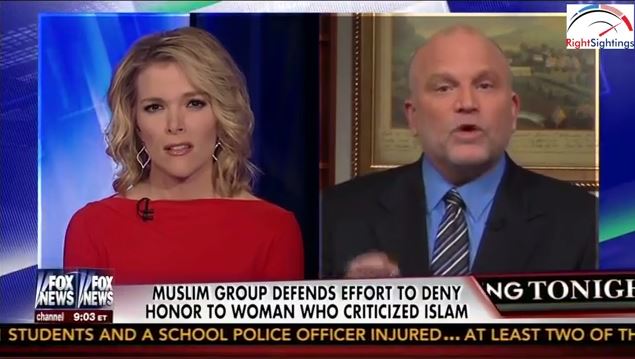 This is something that the dissemblers and apologists for Islam would like to hide from us all, but facts are troublesome and stubborn things, as Andy points out. At the 4:15 mark in the interview by FOX's Megyn Kelly, Fibber Hooper says the following:
"American Muslims join people of conscience of all faiths in condemning female genital mutilation…"

That's a bald faced lie, seeing that FGM is an intrinsic part to Islamic ideology in keeping the Muslim female corralled.
NOTE: What Megyn Kelly should now do, is to invite Andy Bostom to speak on the subject, in length, in order to clear the air once and for all.
Having thus far refused to honestly acknowledge, let alone confront the clear, authoritative Islamic imprimatur for FGM-C—from Muhammad's alleged utterance, to classical and modern jurists, across a millennium, till today—in Islamic societies, perhaps all these strange bedfellows, The Clarion Project/The Ayaan Hirsi Ali Foundation, Quanta Ahmed, and CAIR, will, pardon the reference, gird their loins within the security of the U.S., remonstrate against AMJA's apparent "distortion" of Islam, and explain to AMJA's clerics why they are wrong. Better still, invite all the parties—AMJA's clerics and any of The Clarion Project/The Ayaan Hirsi Ali Foundation, Quanta Ahmed, and CAIR to debate whether Islam sanctions FGM/C on Fox News' The Kelly File.
Cut the Clitoral Relativism: Islam, Sharia, and Female Genital Mutilation/"Circumcision"
by ANDREW G. BOSTOM
April 11, 2014 – 10:10 am
Despite their ongoing antagonisms—played out, prominently, on Fox News—a bizarre, shared apologetic has emerged which denies the irrefragable sanctioning of female genital mutilation/"circumcision" (FGM/C) by canonical Islamic tradition ("hadith"), and over 1100 years of authoritative, mainstream Islamic jurisprudence. The strange bedfellow antagonists engaged in these overlapping apologetics about FGM/C are the Clarion Foundation and its film "Honor Diaries," allied with the Ayaan Hirsi Ali Foundation (Ms. Ali is also listed as the film's executive producer), "versus" the Hamas-linked cultural jihadist organization, the Council on American-Islamic Relations (CAIR). Fox News has served as overseer of this "conflict" cum consensus, while also reinforcing the fallacy that FGM/C is simply a tragic manifestation of misogynistic patriarchal trends that are generic, and have "no basis" in Islam and the Sharia, Islamic law.
Ibrahim Hooper of CAIR issued the following statement (which Fox News host Megyn Kelly aired on her broadcast), that melds Islamic negationism (in bold, below), with vitriol against the Clarion Foundation-produced film:
American Muslims join people of conscience of all faiths in condemning female genital mutilation, forced marriages, "honor killings" and any other form of domestic violence or gender inequality as violations of Islamic beliefs. If anyone mistreats women, they should not seek refuge in Islam. The real concern in this case is that the producers of the film, who have a track record of promoting anti-Muslim bigotry, are hijacking a legitimate issue to push their hate-filled agenda.
Notwithstanding the obsessive focus on Hooper/CAIR's predictably gratuitous attack against the producers of "Honor Diaries," what has been deliberately obfuscated by conservative supporters of the film are mirror image statements denying the centrality of Islamic doctrine such as this blatantly false Ayaan Hirsi Ali Foundation websitepronouncement:
FGM has no foundation in Islamic scripture or law.
Quanta Ahmed, a protagonist in "Honor Diaries," appearing in one of Megyn Kelly's Fox News segments on the "CAIR vs. bold filmmakers controversy," made a Goebbel's-like inversion of morality. Ahmed not only denied Islam's sanctioning of FGM in "Honor Diaries," claiming, falsely, "Female genital mutilation is not advocated in Islam in any way shape or form," during her March 31, 2014 interview with Megyn Kelly she compounded her mendacity with themorally perverse observation that,
the most Islamic act is to expose this injustice
This shared mendacity by current antagonists CAIR, Clarion, the Ayaan Hirsi Foundation, and Dr. Quanta Ahmed, deliberately obfuscates, as but one salient example, the following canonical hadith ("tradition" of Muhammad) which sanctions FGM/C:
Umm Atiyyah al-Ansariyyah said: A woman used to perform circumcision in Medina. The Prophet said to her: "Do not cut severely as that is better for a woman and more desirable for a husband." [Sunan Abu Dawud, Chapter 1888, "Circumcision of Girls", Number 5251, from Sunan Abu Dawud, one of the six canonical hadith collections, English translation with Explanatory notes by Prof. Ahmad Hasan, 2007, Volume III, p. 1451; this hadith is also available online here, as Book 41, Number 5251]
Professor Hasan's note adds the following observations:
Some Shafii scholars hold that circumcision of girls is obligatory, but others think that it is recommended. Ahmad b. Hanbal and some Maliki jurists hold that it is obligatory. Abu Hanifah maintains that it is recommended and not obligatory. Mali holds that it is recommended and not obligatory.