You mean go full UK?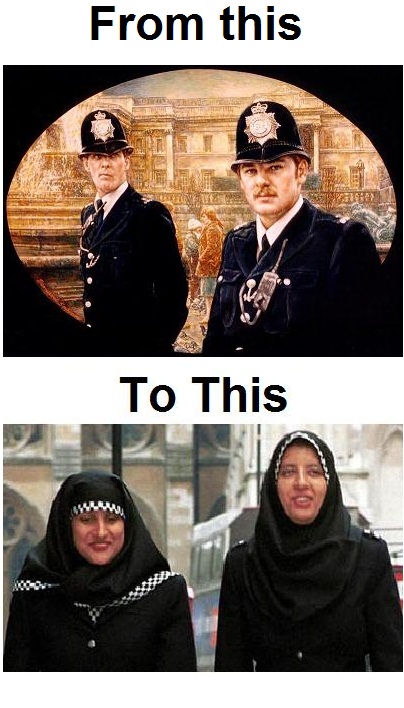 I'm all for the banning over overt religious symbols from public workers (solely because of Islam). If they can't meet the standards of the requirements, then look for work elsewhere. Besides, how idiotic to have a head covered in a garment, that could be easily pulled over the eyes by a perp, and have the snot beat out of them, or worse. Enough with this "death-by-a-thousand -paper-cuts" Islamization bull crap.
In fact, it's highly dubious for a police force to have female police officers on the beat in the first place. Rare is the female with enough testosterone to wrestle with a grown male.
H/T: Vasarahammer
– Scarves, turbans and Jewish kipat was allowed because the Swedish police want the cops coming from different backgrounds. It was also considered that the headgear is permitted in accordance with the Equality Act, says Swedish police spokesman Carolina Ekéus.

– We are using a scarf Muslim women needed to Finnish police. For example, I could certainly solve immigrants' problems in a different way than the other cops. Also, I could train other police officers about religion and culture, said the Muslim woman

 dreaming of a 

police profession.
NOTE: Great, that's all we need, a Muslim fundamentalist "teaching" (lying, propagandizing) on the job, as well as ensuring that Muslim females being defiant to their husbands (getting beaten up), to shut up and take it like a punching bag.
Could the Finnish police look like this?
An eyewitness tells the story of a Muslim woman, who could not get her dream job of being a cop because of the use of the scarf. Police uniforms must not be used with religious symbols.
Muslim women were asked about the Police College in an interview how they would take it, if your use a scarf during work hours was prohibited. A woman suggested that the matter could be negotiated, and that the scarf could also be modified as needed.
– The interviewee feels that the matter could not be negotiated, nor could she get into school. I've always wanted to be a cop and now I have had to give up my dream. The scarf is my identity and my religion, and I can not give up on working hours, says 38-year-old Muslim woman anonymously on Thursday's Eyewitness program .