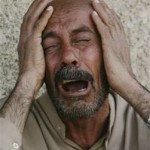 In Egypt a cry of outrage is met with death
Muslim Brotherhood students and supporters of ousted president Mohamed Mursi pictured during clashes with riot police at Cairo University. Photo: ReutersDate 
Ruth Pollard
Student killed in Egypt clashes
RAW VISION: a student is reportedly killed in clashes between university student protesters and police in Cairo.
No.309 on a list of 529 people condemned to die – a lawyer jailed alongside the people he had spent months trying to help, caught up in the relentless crackdown against anyone who dares to challenge Egypt's military-backed government.
But as a son of the town of Matai in Egypt's Nile Delta, 36-year-old Ahmed Eid Ahmed Telb is not alone in this fate. In this modest municipality of 50,000 residents, the extraordinary mass conviction means approximately one in every 100 citizens of Matai was sentenced to death last Monday.
Everyone is scared they will be arrested – no one is discussing it on the street but behind closed doors it is all that families can talk about.
The presiding judge allowed just two short sessions of 30 minutes and one hour to hear the case in which no evidence was presented, many of the defendants were tried in absentia and many defence lawyers were prevented from attending the trial.
About 220 kilometres south of Cairo, Matai has a small town feel. Fresh fruit and vegetables are on  display at the  markets, its main street  bustles with schoolchildren, shoppers and pedestrians, and elaborately decorated tuk-tuks jostle for business with minivans, cars and buses.
But for a time last year – six weeks after the military forced the Muslim Brotherhood-backed president Mohamed Mursi from power and security police used lethal force to disperse huge sit-ins – the Minya governorate in which Matai sits was the scene of some of the country's worst violence.
Minya is home to one of Egypt's largest Coptic Christian populations. It also has a significant community of Brotherhood supporters who were furious that Mursi, the country's first democratically elected president, had been overthrown.
Libya: Egyptian Killed in Armed Attack in Benghazi – Fm
29 MARCH 2014
An Egyptian man was killed in an armed attack on a vegetables store in Libya's Benghazi early on Saturday, Egypt's Foreign Ministry has said.
The incident occurred as two Egyptians were taking down the vegetables from a truck, the FM's spokesman told the state news agency.
Gad Abdel Maseeh Abdel Malak was killed by a gunshot.
Libyan judge survives Benghazi attack
File Photo
Benghazi, the second largest city in Libya, has been a hotbed of violence since the fall of the Muammar Gaddafi regime in 2011.
World Bulletin / News Desk
A Libyan judge has survived an assassination attempt Saturday in the eastern city of Benghazi.
"Judge Tawfiq Nayef al-Hasi survived an attempt on his life," Marwan al-Tashani, the head of the Libyan Judges Organization, told Anadolu Agency on Saturday.
According to al-Tashani, unidentified gunmen opened fire on the judge in Benghazi's al-Hadaq district late Friday and fled the scene unscathed.
Hashim Bishr's brother killed in Tripoli
Tripoli, 30 March 2014:
The brother of the former head of the Supreme Security Committee (SSC) Hashim Bishr was found dead this morning in Tripoli, after his kidnap at dawn this morning.
The body of Hisham Bishr – a head-teacher at a local school – was found under a bridge in the Qasr Ben Ghashir district of the capital, according to Libyan newspaper Bawabat Alawasat. He had been shot.
Yemen pro-govt militiamen killed in 'Qaeda' ambush
A Yemeni man walks past destroyed buildings in Zinjibar, capital of Abyan province in southern Yemen on December 5, 2012 (AFP Photo/Sami al-Ansi)
Aden (AFP) – Two members of Yemen's auxiliary Popular Resistance Committees were killed in an overnight ambush by presumed Al-Qaeda members in the south, a member of the pro-government militia said on Sunday.
He said the men were gunned down on the road between Loder and Moudia northeast of Zinjibar, the capital of Abyan province.
The attackers, who escaped after the killings, "are presumed to be in Al-Qaeda", he added.
The global jihadist network's Yemen branch, Al-Qaeda in the Arabian Peninsula (AQAP), is viewed by Washington as its most dangerous and has claimed repeated deadly attacks, including in the heart of the capital Sanaa.
Members of the Popular Resistance Committees, who are recruited from tribes, backed a government offensive that led to security forces retaking Abyan province in June 2012 after it was under AQAP control for a year.
Infighting leaves 50 militants dead in NE Syria
File photo shows militants from the al-Qaeda-linked Islamic State of Iraq and the Levant (ISIL) marching in Raqqa, Syria.
Sun Mar 30, 2014 8:28PM GMT
At least 50 militants have reportedly been killed in fierce fighting that has broken out between two major Takfiri groups in northeastern Syria.
The clashes broke out between the so-called Islamic State of Iraq and the Levant (ISIL) and the terrorist group al-Nusra Front on Saturday in the strategic town of Markada, in the south of Hasakah province, the London-based Syrian Observatory for Human Rights said on Sunday.
According to the pro-opposition observatory, ISIL militants overran the town held by the rival al-Qaeda-linked group.
Markada is located on the border with Iraq, where the ISIL militants have been increasingly active over the past months.
The extremist militants have been fighting the al-Nusra Front since January across western, northern and eastern Syria.
On Saturday, reports from Syria said ISIL's military commander Omar Farough al-Turki was killed by al-Nusra militants in Hasakah.
More here. (Warning: Iranian propaganda rag Press TV)
Dozens killed in Iraq month ahead of Parliamentary poll
Published time: March 31, 2014 04:01
People look at a hole after a suicide bombing on al-Hauz Bridge in the city of Ramadi, west of Baghdad, March 30, 2014 (Reuters / Stringer)
​A spate of attacks claimed the lives of over 30 people in Iraq on Sunday, just one month before the country goes to the polls for Parliamentary elections.
Shortly after midnight gunmen attacked an army base in south of Mosul, leaving 7 soldiers dead, police confirmed. A suicide bomber in the city of Ramadi in Anbar province, killed 13 people and wounded 11 others, as he detonated his explosive-laden car damaging a bridge across the Euphrates River.
Also in Anbar province an assault on the army base near the city of Fallujah killed nine soldiers and wounded 14 others.
More here. (Warning: Russian propaganda rag RT)
Foreigners escape Taliban siege in Kabul; Afghan child killed
BY MIRWAIS HAROONI AND HAMID SHALIZI
KABUL Fri Mar 28, 2014 4:11pm EDT
(Reuters) – Taliban gunmen stormed a Kabul guesthouse used by a U.S.-based aid group and held four foreigners hostage for several hours on Friday, just eight days before Afghanistan holds a presidential election which the militant group has vowed to derail.
Kabul is already on high alert and people across the country are on edge ahead of an April 5 vote the hardline Islamist movement has denounced as a Western-backed sham.
The siege of the walled compound, which is also home to a small church, lasted several hours before Afghan security forces killed the last remaining Taliban gunman holed up inside.
At least one Afghan child was killed when a suicide bomber blew himself up outside the building and the insurgents forced their way in. There were no foreign casualties.
A Reuters witness saw about 20 people being evacuated from the guesthouse in an upmarket residential area of Kabul, many looking frightened and shocked.