His enemies can be counted on to twist the narrative, and spin the news.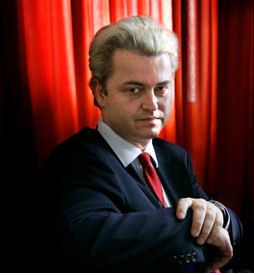 Hating Geert Wilders
by Daniel Pipes Mar 22, 2014 updated Mar 23, 2014
In its frenzied loathing of the Netherlands' most important politician, Geert Wilders, the Dutch press will do almost anything to attack him.
He's now in hot water for calling on a reduction in the number of Moroccans in the Netherlands. Tom-Jan Meeus of the leading newspaper NRC Handelsblad asked my opinion on this development. I wrote a response that both endorsed and criticized Wilders:
As is often the case, I disagree with Mr Wilders' tactics while sympathizing with his goals. It is entirely understandable that the indigenous peoples of a country feel stress when large numbers of immigrants from an alien civilization, more than a few of them hostile, move in.

Wanting to bring this transfer of peoples under control is sensible – just as Moroccans feel when Dutch and other Europeans turn up in Marrakesh, just as a Dutch newspaper reported in 2010 (see http://www.danielpipes.org/blog/2010/05/european-immigrants-in-marrakech). That said, I wish that Mr Wilders went about protesting this issue in a more cautious way.
Meeus devoted a whole article to this little response, "Amerikaanse geldschieter neemt afstand van Wilders," which translates as "U.S. money-lender distances himself from Wilders."
This title is inaccurate in two ways: First, the Middle East Forum Education Fund did not lend money to Wilders but paid his lawyer to cover his legal expenses. Second, I did not distance myself from Wilders here but merely reiterated long-standing differences with him. In his article, Meeus also ignored my point that Moroccans likewise are uneager to have more Europeans live among them.