The best recruiting tool in the UK the Counterjihad has ever had.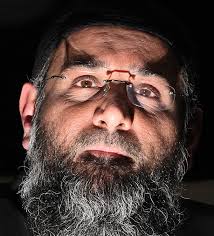 Hate preacher investigated over driving 'al-Qaeda van' in London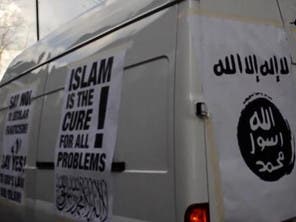 Hate preacher Anjem Choudary addresses members of the media, during a protest supporting Shari'ah Law, in north London. (File photo: Reuters)
By Staff writer | Al Arabiya News
Sunday, 9 March 2014
An extremist preacher who recently drove a van emblazoned with al-Qaeda logos on a busy London high street could face prosecution under the UK's anti-terror laws, according to The Sunday Times.
Hate preacher Anjem Choudary and his followers staged what is being called the "al-Qaeda van" stunt last Saturday, on a busy road in northeast London.
The YouTube footage of the stunt was uploaded by a group called Need4Khilafah, the newspaper said.
The "road show" featured a white van with posters on its bonnet and back doors of the logo used by the Islamic State of Iraq and Sham (ISIS), a radical Islamic militant group fighting in war-torn Syria.
The extremists' van is emblazoned with a logo used by ISIS jihadists in Syria. (Courtesy: The Sunday Times)
Choudary appears halfway through the footage, while chants of praise for Dawlet al-Islam, or ISIS, can be heard in the video.
"The former lawyer is careful not to be filmed with the ISIS logo, which is also seen on a badge being pinned to a child's coat," The Times said, referring to Choudary.
Abdul Muhid, one of Choudary's followers, used a loud-speaker from inside the van to shout: "Islam is the solution for Great Britain, Islam is the solution for the world."
One of the videos of the stunt garnered more than 7,000 view on YouTube.