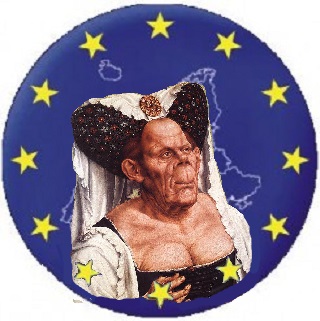 Former Dutch Minister: Europe is a Military Dwarf
Jaap de Hoop Scheffer, former Dutch minister of Foreign Affairs and former Secretary General of NATO said during a TV program that Europe is a military dwarf. He added that Europe, due to all of the budget cutting represented little in the military field. He observed: "Putin knows this."
WORLD VIEW: RUSSIA DECLARES THE AUTONOMOUS REPUBLIC OF CRIMEA
This morning's key headlines from GenerationalDynamics.com:
Russia declares the Autonomous Republic of Crimea
Strategic consequences of Russia's conquest of Crimea
North Korea fires short-range missiles into the sea
Russia declares the Autonomous Republic of Crimea
It appears that Russia has taken control of Crimea without firing a shot and is referring to it as the "Autonomous Republic of Crimea," presumably with the intention of making it a puppet state of Moscow.
Ukraine's government in Kiev is only a few days old and seems to be in disarray. So far, it's avoiding any strong military overreaction that would provide Russia with an excuse for a further military invasion, perhaps into eastern Ukraine beyond Crimea. However, the government warned Sunday it was on the brink of disaster and called up military reservists to counter Russia's threat to Ukraine.
Russia has appointed Sergey Aksyonov to prime minister of Crimea, and on Sunday he announced:
I believe that this day will go down in history of the Autonomous Republic of Crimea as the day that all law enforcement agencies were established in the autonomy. We will prove that the Crimeans are capable of protecting themselves and ensure the safety and freedom of our citizens.
Swedish PM: Russian worries 'understandable'
Unidentified armed men guard the entrance to the local government building in Simferopol, Ukraine. Photo: AP
Published: 03 Mar 2014 11:12 GMT+01:00
Sweden's Prime Minister Fredrik Reinfeldt came under fire after he said on Sunday that Russia's involvement in Crimea was "somewhat understandable".
Reinfeldt was talking to reporters on Sunday afternoon after an event at the Royal Palace. When asked about the conflict in Ukraine, where Russian soldiers have moved in to Crimea and Ukrainian forces are mobilizing, he said Russia's actions were "understandable".
"It's somewhat understandable that Russia is acting on concerns about the Russian minority of Crimea and eastern Ukraine, but not in the way they're doing it. There are of course methods for talking to the Ukrainian government and calm down the situation in that way," he told reporters.
His remarks caught the attention of Foreign Minister Carl Bildt, among others.
"I don't think there has been that much concern among the Russian minority if I'm being honest," he told SVT's Agenda programme on Sunday night.
More here.