An orange jumpsuit waiting to be filled.
He should never have been released from GITMO in the first place.
Ex-Guantánamo detainee Moazzam Begg held in Birmingham terror raids
Begg, released from Guantánamo without charge, arrested with two men and a woman on suspicion of Syria-related offences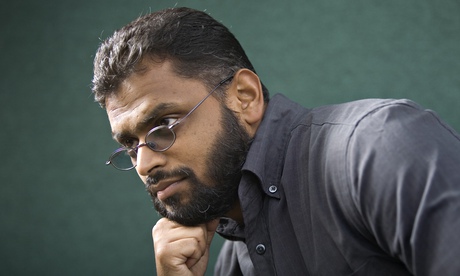 Moazzam Begg was imprisoned in Guantánamo Bay and later became a campaigner with the group Cageprisoners. Photograph: Murdo Macleod
The former Guantánamo Bay detainee Moazzam Begg, who became a vocal campaigner against the alleged excesses of the war on terror, is back in detention after being arrested for alleged terrorism offences linked to Syria.
Supporters of Begg, 45, claimed his arrest at his Birmingham home was politically motivated and aimed at halting his work trying to expose injustices committed by the west. Begg was arrested on Tuesday morning on suspicion of attending a training camp in Syria and facilitating terrorism there.
The Guardian understands that part of the allegations against him come from the security services, which passed information to West Midland police's counter-terrorism unit. Detectives will try to prove or disprove whether Begg's activities amount to support of terrorism.
Begg wrote openly about his trips to Syria and said he had met an MI5 agent at a London hotel to discuss the visits. He claimed the domestic security service raised no problems with his plans.