Big government elitist statists licking their chops.
This of course will involve yet more erosion of civil liberties and true representational government. A Finn has little hope of influencing a decision by politician or advocacy/lobbying group over a proposed legislation (or even in an election cycle), from an other state in which he or she has no lingual/cultural contact.
This is the making of a despotic, tyrannical supra-state in which the average person has no voice at all, they're just part of "the masses" that goes through the motions while the engineers of society plan their plans and scheme their schemes, and enriching themselves along the way.
The rise of the neo-aristocracy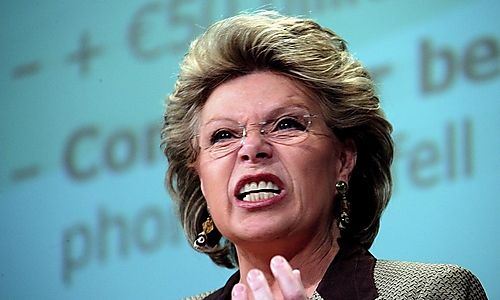 Reding: 'Eurozone should become the United States of Europe'
17.02.14 @ 19:56
European Commission vice-president Reding told Cambridge University students Monday "the eurozone should become the United States of Europe." She added: "I believe that the UK will not be part of this," but said it "should … share a common market, a common trade policy, and hopefully a common security agenda"