You ain't seen nothing yet.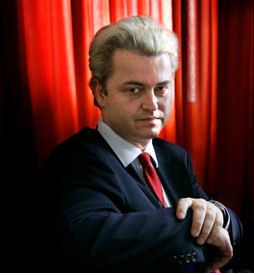 Geert Wilders' PVV remains biggest party in poll of polls
Wednesday 12 February 2014
Geert Wilders' anti-Islam PVV remains the biggest party in the latest poll of polls – an amalgam of four main opinion polls, Nos television says on Wednesday.
The PVV would take between 25 and 29 seats in the 150-seat parliament if there were a general election tomorrow, the analysis shows. This would give the PVV between 16.6% and 19.3% of the vote.
Actual support for the PVV will not be put to a real test at next month's local elections because the party is only standing in The Hague and Almere. However, Wilders has high hopes of the European elections in May, and is pressing home his anti-EU message.
– See more at: h/t: Fjordman