Screw the boycotters, and Lurch.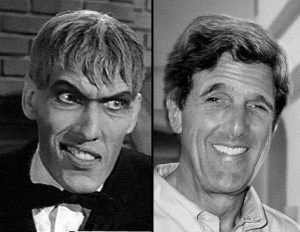 ISRAELI LEADERS SLAM KERRY–AGAIN
U.S. Secretary of State John Kerry is once again the target of criticism, direct and indirect, by Israeli leaders after he suggested that Israel could face "delegitimization" and "boycott" campaigns without a peace deal with the Palestinians.
That remark, made Saturday at the Munich Security Conference, prompted Economy Minister Naftali Bennett to slam Kerry: "We expect our friends around the world to stand beside us, against anti-Semitic boycott efforts targeting Israel, and not for them to be their amplifier," Bennett said on Saturday evening.
Israeli Prime Minister Benjamin Netanyahu also responded, albeit indirectly, dismissing the threat of boycotts: "Firstly, they only serve to make the Palestinians become more entrenched in their stance of refusal. Secondly, no pressure will make me abandon the State of Israel's vital interests, of which security of the civilian population is foremost."