Russian police kill terror suspect in Winter Olympics security crackdown
Eldar Magatov killed in shootout in Dagestan during security operation as Sochi Games approach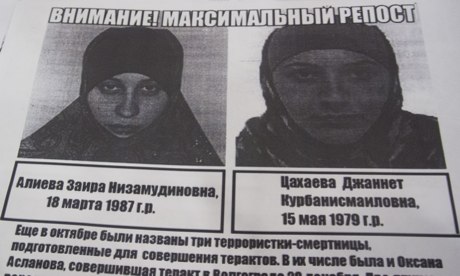 A leaflet seen in a Sochi hotel depicting two women wanted by police. Photograph: Natalya Vasilyeva/AP
Police have killed a senior Islamist militant in a shootout in Russia's North Caucasus before the Winter Olympics in Sochi, the national anti-terror committee has said.
The operation against Eldar Magatov, a suspect in numerous attacks on Russian targets, at a house where he had taken refuge in the Dagestan region was part of an intensifying security clampdown as the Games approach.
President Vladimir Putin has staked his political reputation on organising a successful Olympics and tightened security nationwide after insurgents who hope to create an Islamist state in the North Caucasus threatened to attack the Games.