Oh my, how the empire has fallen.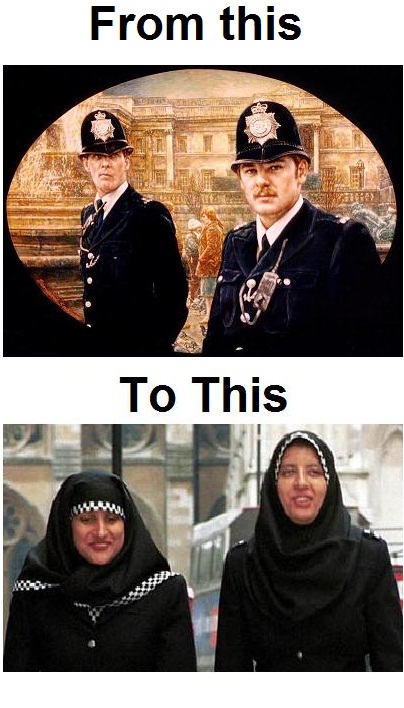 He told the Mail last night: 'Directly elected police commissioners are an attempt to give people a direct say over the way people are policed. Elsewhere the administering of justice often is ineffective and there is a great deal of incompetence in the system.
Murders and rapes going unreported in no-go zones for police as minority communities launch own justice systems
Rise in 'community justice' in Midlands cutting number of police calls
Forces warn genital mutilations and honour killings are being kept hidden
Follows conviction of Muslim Patrol group last year for 'enforcing sharia law'
By SARA SMYTH
PUBLISHED: 01:51 GMT, 18 January 2014 | UPDATED: 01:51 GMT, 18 January 2014
Parts of the UK are becoming no-go areas for police because minority communities are operating their own justice systems, according to the Chief Inspector of Constabulary.
The rise in 'community justice' means crimes as serious as murder and sexual abuse are going unreported – a situation reminiscent of Belfast in the height of the Troubles.
Tom Winsor said police officers were simply never called to some neighbourhoods, where law-abiding people rather than criminals administer their own form of justice
Honour killings, genital mutilation, and domestic violence are some of the offences thought to be unreported
He said: 'There are some communities born under other skies who will not involve the police at all. I am reluctant to name the communities in question, but there are communities from other cultures who would prefer to police themselves.
'There are cities in the Midlands where the police never go because they are never called. They never hear of any trouble because the community deals with that on its own.
Read more:  H/T: Gaia