The sad thing is, is that Islam is mixed up in it. 
That's the problem in placing Islam in the same league with other religions, it's like what Sam Harris says, it's like comparing Thai kick boxing with badminton, both are 'sports', but the comparison ends there. So using their logic, the sports regulating bodies should force badminton and tennis players to wear groin protectors.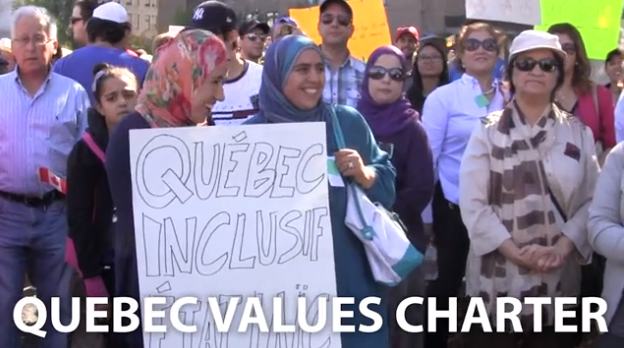 Values charter opponents wear religious symbols ahead of public hearings
By Steve Mertl | Daily Brew – Mon, 13 Jan, 2014
The ferment over the Parti Quebecois' proposed secular values charter will only deepen as the minority PQ government launches hearings into the legislation this week.
National Assembly MNAs are expected to get about 250 submissions when they begin hearings Tuesday on Bill 60, CTV News reports.
The legislation, whose most contentious element would bar public-sector employees from wearing religious symbols such as head coverings, crosses and stars of David, has driven a deep wedge into Quebec society.
The proposed charter has support in predominantly francophone regions of the province, especially in rural areas, but is encountering widespread opposition in multicultural Montreal and among affected institutions, including schools, daycares and hospitals.
A Muslim woman in Montreal organized a protest Monday calling on Quebecers to to wear overt religious symbols to register their opposition to the proposed charter.
"Today basically is just to show up to work, to their everyday life and adopt one of the four symbols the [Parti Québécois] is planning to ban, so either the hijab, the turban, the kippah or a large cross,"