Lars' ax would have been there to greet her.
A dull blade would have been meet with a sharp ax, I know who would have won.
'Jihad Jane' Gets 10 Years in Plot to Kill Artist
PHILADELPHIA January 6, 2014 (AP)
By MARYCLAIRE DALE Associated Press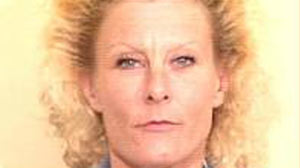 A troubled Pennsylvania woman who called herself "Jihad Jane" online and plotted to kill a Swedish artist was sentenced Monday to 10 years in prison after telling a judge she had been consumed by thoughts of a Muslim holy war.
Colleen LaRose, 50, faced a potential life term. But Chief U.S. District Judge Petrese B. Tucker gave her credit for her guilty plea and her help in the indictment of two others.
Prosecutors asked for decades in prison, fearing she remains highly vulnerable to manipulation. But LaRose told the judge, "I don't want to be into jihad no more."
LaRose became obsessed with the cause after meeting a Muslim man on vacation in Amsterdam, when she was out one night after a fight with her boyfriend, her lawyer said. She pursued it online when she returned to her home in rural Pennsburg, Pa., where she cared for the boyfriend's elderly father at home nearly full time.
"That's all I would think about is jihad, jihad, jihad," LaRose said Monday, telling her story for the first time in court. "I was in a trance."
With her blond hair, blue eyes and U.S. passport, she forever changed the face of terrorism in the United States, prosecutors said.