Turn out the lights, the brief party is over.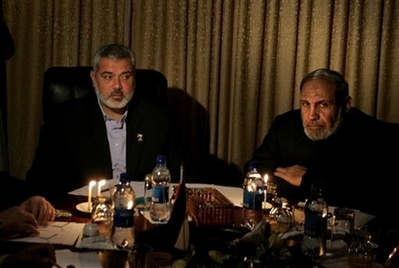 Top Hamas figure denies communication with Egypt
Hamas Senior official Mahmoud al-Zahar denied efforts had been made to reestablish contact with Egyptian officials to supply Gaza with Qatari fuel through Egyptian ports.
The fuel is currently being supplied through Israeli ports, he said, adding that small amounts of the Qatari fuel that had been in languishing in the Suez port have finally arrived.
Zahar told the London-based Al-Hayat newspaper on Sunday that Hamas is ready to apply the reconciliation agreement and all its articles, "provided that they are applied completely not selectively like Fatah and authority in Ramallah want."
"They [Fatah] seek holding partial elections in the West Bank and Gaza without the rest, while the reconciliation agreement states holding total elections," he added.
Zahar raised skepticism on Fatah's intentions and accused it of seeking election rigging. "They want to rigid elections in the West Bank to get Hamas out of the political scene."
Zahar also added that Israel and US veto the reconciliation, especially at the meantime while negotiations are taking place. "The US plan is to make Gaza a rebel region besieged by Israel and Egypt," he added.