Sweden is beyond parody.
Seeing that extremist feminists are prone to bare their breasts in promotion of their radical ideology, I doubt that it's really about them, and more about placating Muslims visiting the house of parliament.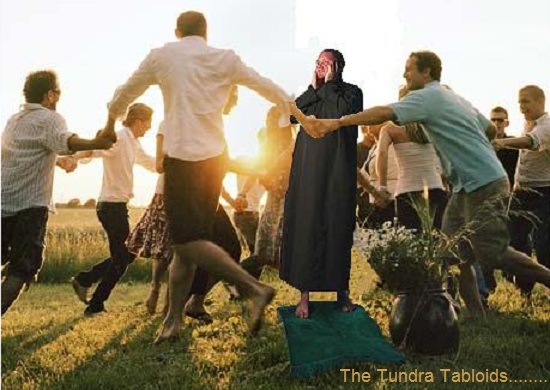 Swedish parliament removes Baroque artist's bare breasted painting for offending feminists and Muslims
Baroque painter GE Schroder's (barely) bare breasted "Juno" has been taken down by the Swedish parliament for offending feminists and Muslim visitors in a widely derided move
by the commentator on 19 December 2013 22:42
A nude painting named Juno, which was painted by baroque artist G E Schröder and has hung in the dining room of the Swedish Parliament for 30 years has been taken down for fear of offending the sensitivities of feminists and Muslim visitors, Swedish newspaper, The Local reported on Thursday.
Explaining the ban on the baroque breasts, a source from the parliament said: "You have to think of the foreign guests, especially those from Muslim countries."
The deputy speaker of Sweden's parliament, Susanne Eberstein, also a prominent Social Democrat, added:
"I think it is more a feminist issue. It's tiresome (looking at) a bare-breasted woman when I sit at public dinners with foreign guests. I think it feels a little hard to sit there with men who look at us women."
One humourist in Britain wondered why Swedish lawmakers could not have emulated the famous English comic Mr. Bean (who once posed in a movie as an art critic) and get someone to paint a bra on top of the offending mammaries in order to preserve modesty and thus prevent offence.
More here. H/T: Mimosa Dedannan