The sound of Islamonazi chest thumping.
This is not the sign of a nation cowering under the threat of international pressure, in fact, the mood could be described as being 'happy day are here again'.
Iran Launches 'Large-scale' War Drills in Persian Gulf
Drills will test fighter jets, bomber jets, air defenses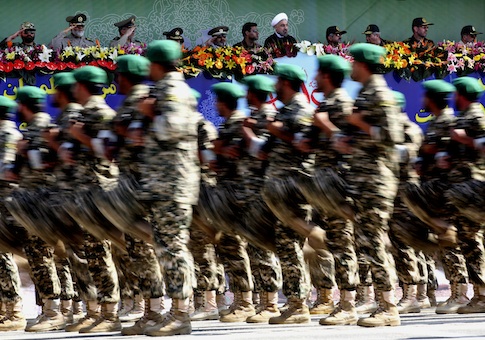 Military forces marching during an annual military parade in Tehran, Iran, Sunday, Sept, 22, 2013 / AP
BY: Adam Kredo

Iran kicked off a series of "large-scale" war games on Thursday to test the country's air defenses, fighter jets, and bomber planes in the Persian Gulf region, according to regional reports.
The drills began Thursday in the south of Iran near the Persian Gulf and the Strait of Hormuz, a critical global shipping lane that Tehran has threatened to attack and choke off in the past.
The "technical core" of the war drills is to test Iran's "air-to-air combat" prowess and its targeting of "flying objects," according to reports in the country's state-run media.
The military drills will unfold in three stages, according to Iranian Air Force Brigadier General Alireza Barkhor, who spoke to Iran's state-run media about the war games.
The first phase begun today includes reconnaissance missions while the second phase starting on Friday will test a slew of "fighter jets, bomber jets, logistics, light, and reconnaissance aircraft" around the Persian Gulf area, according to Iran's Tasnim News Agency.
The air force drills come as the Obama administration seeks to coax Iran back to the bargaining table after a breakdown in talks aimed at stopping Iran's contested nuclear program.