The did it in Libya as well.
There comes a time when you simply have to face the facts and swallow the hard truth, there is no good side in the civil war in Syria, and that whichever side emerges from that civil war needs to be contained, not negotiated with.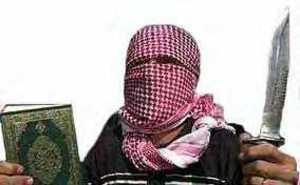 Though the Islamic Front is not a U.S.-designated terrorist group, many of its members hold intensely anti-American beliefs and have no intention of establishing a secular democracy in Syria. U.S. interest in the group reflects the bedraggled state of the Supreme Military Council and the desire to keep military pressure on President Bashar al-Assad ahead of next month's planned peace conference in Geneva. "The SMC is being reduced to an exile group and the jihadists are taking over," said a senior congressional aide.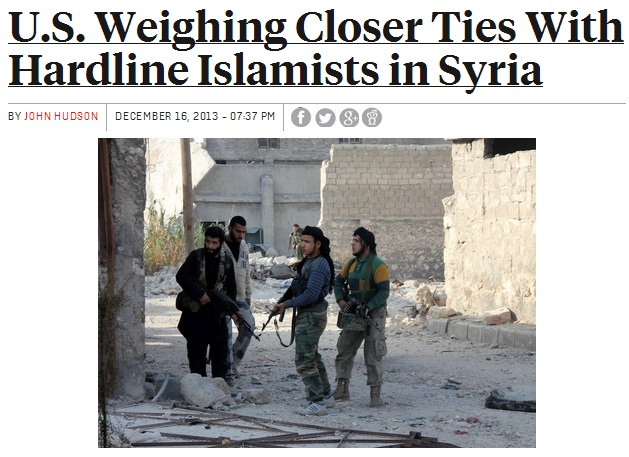 As the moderate faction of the Syrian rebellion implodes under the strain of vicious infighting and diminished resources, the United States is increasingly looking to hardline Islamists in its efforts to gain leverage in Syria's civil war. The development has alarmed U.S. observers concerned that the radical Salafists do not share U.S. values and has dismayed supporters of the Free Syrian Army who believe the moderates were set up to fail.
On Monday, the State Department confirmed its openness to engaging with the Islamic Front following the group's seizure of a Free Syrian Army headquarters last week containing U.S.-supplied small arms and food. "We wouldn't rule out the possibility of meeting with the Islamic Front," State Department spokeswoman Marie Harf said Monday. "We can engage with the Islamic Front, of course, because they're not designated terrorists …  We're always open to meeting with a wide range of opposition groups. Obviously, it may make sense to do so at some point soon, and if we have something to announce, we will."
On Saturday Reuters reported that Syrian rebel commanders in the Islamic Front were due to meet U.S. officials in Turkey in the coming days to discuss U.S. support for the group. A Syrian opposition source speaking with The Cable said that efforts were in place to unite the Western-backed Free Syrian Army and the Islamic Front under the same coalition. "There are negotiations planned for very soon between the [Free Syrian Army's] SMC and the Islamic Front to determine what the relationship will be," said the source. America's role in coordinating the talks remains unclear.