Looks like they're planning on building a Muslim community around the mosque if you ask me, filled with new converts as the dawa gets into full motion once the concrete sets.
"But our intent has always been to build a project, a maximum size project that we could build on this land," Farouk said. "If somebody had built this 20 years ago, the costs would have been 50 per cent less. But we're building this for generations to come. We have undertaken the responsibility to build this as big as we can now so that future generations don't have to build it at a much higher cost.

"This is an Islamic Centre, but it's not restricted to just the Muslim community. It's for the community at-large."
This is the problem in treating Islam and its adherents as just another member within the realm of "organized religion", it's not here to exist as an equal member. Thinking that it is, is like placing a rugby team in a match with a 'flag football' team with each using its own set of rules. Both athletic teams belong to "organized sports" but the similarities end there, with the rugby team routing the weaker. Wake up folks before it's too late.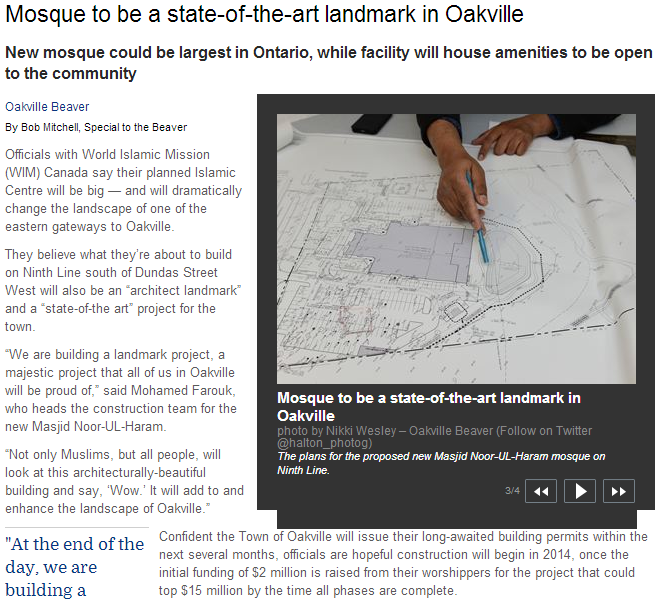 Eventually, the three-storey centre, which includes a 21-metre high mosque dome, four minaret towers rising 30 metres (100 feet), two full-size gymnasiums, dressing rooms and meeting rooms, will rise on the 11 acres of land bought for $780,000 in 1998 on the west side of Ninth Line, just north of the current 5 Drive-In. It will replace the 3,200-sq.-ft. bungalow currently used by worshippers.
There will be parking for 358 cars, 255 on the surface and 103 covered spots.
Once all phases are completed, the centre will have 5,700 square metres of floor space, making it Ontario's largest Islamic centre, one that will have more floor space than the White House, which has 5,100 square metres of floor space.
"We are not only building a mosque. We are building a community centre," Farouk said. "There will be a pathway for joggers right around the project that will be available to everybody in the community.
"We are adding to the mosaic of Canada."
More here.  H/T: Vlad via KafirCrusaders
NOTE: Vlad wisely included in his post this talk by UK lawyer, Gavin Boby, about mosques being built and how to rid your communities, legally, from them.