It's a matter of hygiene, you want to swim fully clothed, go jump in the ocean or lake.
NOTE: Just a couple of years ago in Central Finland, two Somali girls drowned in a river due to the fact the male members of the party refused to jump in to save them because they were under dressed. I  hear that they refused others to help them as well. So much for all cultures being equal.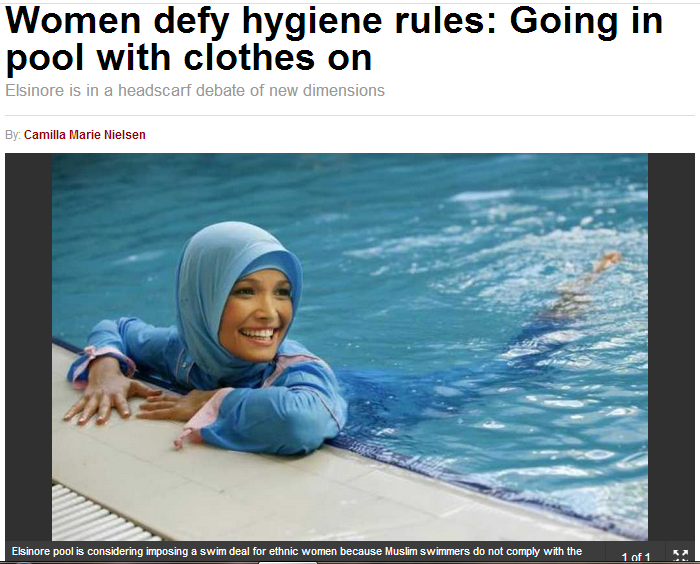 rules on swimwear. File photo: POLFOTO
Ekstrabladet: Patience at Elsinore has run out in a matter of Elsinore pool, where several Muslim women insist on going into the pools with clothes on.
Swimming in anything other than swimwear is contrary to the swimming baths rules of hygiene, and therefore the staff in the hall has repeatedly tried to convince the Muslim women to wear a bathing suit before they jump into the water.
The problems arose after an initiative by the municipality that offer women one evening a week a walk in the pool that proceeded male lifeguards and swimmers.
Female evening is for all women, and will be held every Sunday, and the initiative was launched with the intention of getting women from different ethnic backgrounds to participate in various recreational activities in the municipality.
Clothes in the shower
In bathhouses too, where washing without swimwear before using the swimming pool, violates Muslim women rules because they do not want to undress.
And that's a big problem, says chairman of Elsinore Municipality Sports and Health Committee, Jørgen E. Hansen.
– I have a very clear position on this. At the swimming pool  some elementary rules are to be observed. Employees can and can not see through rules about cleanliness and hygiene, says the chairman of Helsingør Dagblad.
Between 50 and 80 women have taken advantage of a municipal service since it started four weeks ago. But despite the apparent success in getting ethnic women to participate, it is thus not all of the Initiative, which works on local aspirations.
– We have been trying to get more time in the ethnic women who do not usually come out. But there are limits to patience, says Jørgen E. Hansen, who is considering about the event now needs to be stopped.
[…]
– The female lifeguards who have volunteered to swim evenings on a voluntary basis, is reasonably frustrated and get harder to deal with these conflicts with Muslim women, says swim leader, who fear that it gets harder and harder to find a volunteer staff for events .
Also chairman of Elsinore Integration Council is outraged by the situation.
– This is not about culture, but about parenting, says Duygu Aydinoglyu, who has roots in Turkey.
– My culture tells me that we should behave like this. I think it's a shame, because I have seen how several of the women have benefited from the project and have been happier, says integration chairman of the newspaper.
The swimming pool opens for the last time the doors of the event tomorrow night. After next week the offer is  evaluated and must be addressed whether the municipality will continue the initiative.