Lori calls them cheerleaders, I'll give her more than the benefit of the doubt on that one…..
For me, John Kerry is the male embodiment of the traitor 'Hanoi' Jane Fonda. At a time when real honest debate over Vietnam would have been acceptable, John Kerry and others from the Left took the low route of outright lying and scumbaggery (cheering for the enemy) for an ends-justifies-the-means domestic political outcome.
If the internet had been around at the time, the Left couldn't have gotten away with as much as it did during those years, Walter Cornkite wouldn't have been able to pass himself off as the 'most respected voice in America (he was a political hack in journalist clothing), let alone in the news media, nor would have Kerry's fallacious charges before congress have gone unanswered as much as they did.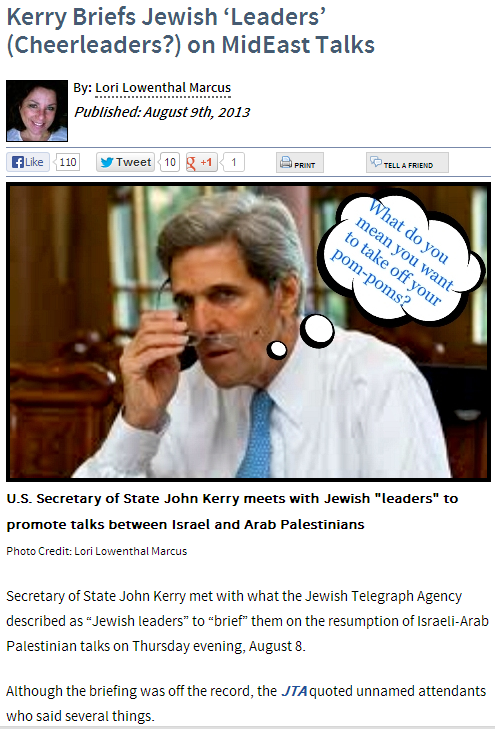 First, that the meeting was dominated by Kerry's "enthusiam for the resumed talks, and the serious commitment he said [sic] saw from Israeli Prime Minister Benjamin Netanyahu and Palestinian Authority President Mahmoud Abbas."
And second, that Kerry "repeated his appeal to American Jews to endorse and support the peace process, first made in early June".
Invited participants at the briefing were: leaders from the Conservative movement, the American Israeli Public Affairs Committee, the Anti-Defamation League, the American Jewish Committee, the Conservative movement, the Orthodox Union, American Friends of Lubavitch, B'nai B'rith International, the Jewish Council for Public Affairs, the Jewish Federations of North America, Hadassah, the National Jewish Democratic Council, the National Council of Jewish Women and the Conference of Presidents of Major American Jewish Organizations.
Clearly, for this State Department, as well as the JTA, Jewish "leaders" is synonymous with the entire spectrum from center to center left.  Where was the Zionist Organization of America? Where was the Republican Jewish Coalition? Where was Aish HaTorah? Where were any Jewish organizations that might point out the folly of the current talks, or the demand for horrifyingly painful concessions from one side just to start the talks at all, and none from the other side?