Uh, swamp monster is the first thought that comes to mind when thinking about Jodi Rudoren, J'lem corespondent for the New York Slimes.
NOTE: Does she have a transgendering thing going on? If she does I can't tell what she's transing from or to.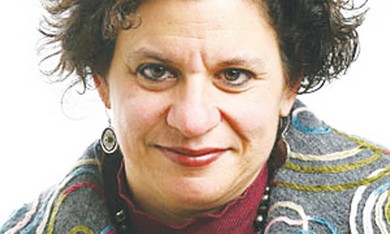 I believe that if Swampy was driving her car on a highway in Israel, and a Palestinian Arab teen was waiting on a bridge with a chunk of concrete to drop on her car as she drove by, she couldn't care less whether it was an Israeli bullet or missile strike that stopped the perp. Do you see the illogic in her thinking?
Seems that 'Swampy' likes to defame people pointing that out. Tundra Tabloid friend and fellow pro-Israel blogger at Israellycool informs me of teh following situation:
Defamation By Jodi Rudoren Of The New York Times
Brian of London | Aug 06, 2013 | 4 comments
defamation |ˌdɛfəˈmeɪʃ(ə)n|noun [ mass noun ]

the action of damaging the good reputation of someone; slander or libel: she sued him for defamation.
I feel I was defamed in a Facebook comment yesterday by Jodi Rudoren of the New York Times. Her comment has now formed a central plank in direct and unfounded attacks on my character. I am now being accused by others of calling for child murder: in effect a modern blood libel has sprung from her ill thought out comment.
Jodi Rudoren asked me "to refrain from violent, threatening messages."  I made no such threats. Here's the context.
I would like a public retraction from Jodi Rudoren on Facebook.
Yesterday I followed a link from Facebook to an article in the New York Times. I wrote about that yesterday. I left several comments on the public Facebook post of the NYT's Israel correspondent, Jodi Rudoren. Here is the first comment I left:
Brian John Thomas

 Their pride and conceit in attempted murder comes through nicely. As I'll be driving past his village in a few hours I do hope the "hero" of your piece can be shot and killed someday soon.

[…]

Brian John Thomas

 Ami, killing a self-confessed attempted murderer before he can kill is not murder. It couldn't be a more clear case of getting up early to kill your avowed enemy before he kills you. I have to deliver a computer to someone right next to his village today. This is not remote or theoretical for me. I'm driving right past where this kid tries to kill people. I want him not to kill me or anyone else. If he has to be buried to stop this, so be it.
Tundra Tabloids: For this opinion, which I wholeheartedly agree with, Brian is defamed by Rudoren as promoting violence.