Yes, she's an antisemite and her fellow colleagues who sat and shared banter with her, knew it, and yet they still cheered her on.
UPDATE: Kudos has to go to the blog that was crucial in taking Thomas down: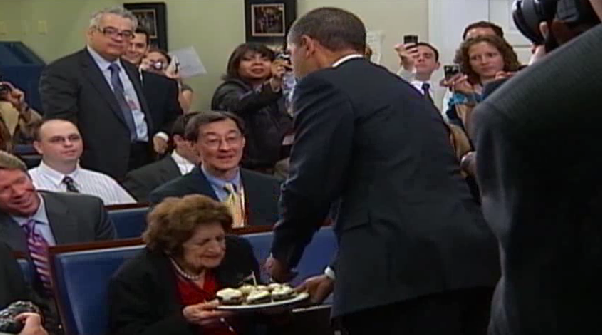 Anti Semite Reporter Helen Thomas Dead (Video)
By Calvin Woodward
WASHINGTON (AP) — Covering 10 presidents over five decades, Helen Thomas aged into a legend. She was the only reporter with her name inscribed on a chair in the White House briefing room — her own front row seat to history.
Starting as a copy girl in 1943, when women were considered unfit for serious reporting, Thomas rose to bureau chief.
Working at a news service, where writers expect obscurity, she became one of journalism's most recognized faces. Thomas embraced her role as a Washington institution, doing cameos in movies, giving lectures, writing books about her life until the spotlight landed on inflammatory remarks she made about Israel.
The uproar pushed her out of the White House press room at age 89.
Thomas, 92, died surrounded by family and friends at her Washington apartment on Saturday, the family said in a statement. A friend, Muriel Dobbin, told The Associated Press that Thomas had been ill for a long time, and in and out of the hospital before coming home Thursday.