What about the rest?
The piece of crap's plane should be diverted to GITMO where he can join his pals in being force fed through tubes.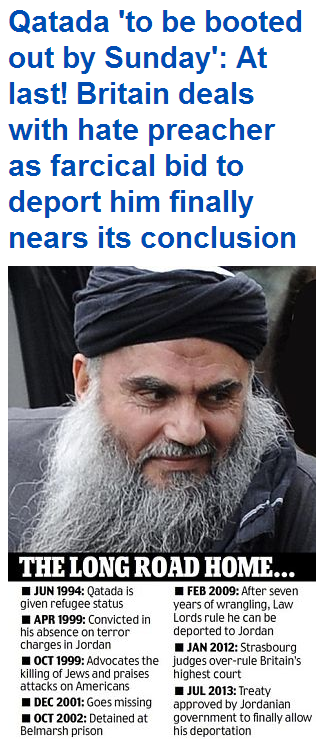 The ten-year battle to deport Abu Qatada was finally nearing its conclusion last night.
Preparations are in hand to put the hate preacher on a plane home early on Sunday.

The farcical saga, which has enraged politicians and the public alike, has already cost £2million.
Although ministers insist legal hurdles remain, Whitehall sources say the Al Qaeda fanatic should be handed over to the authorities in Jordan this weekend.
The breakthrough follows yesterday's adoption by the Middle Eastern state of a treaty that will  protect Qatada's human rights.
He has made this a condition of him voluntarily going home to face trial over his alleged involvement in a bomb plot.

Last night Channel 4 News revealed he will be served with new papers for his deportation that give him 72 hours to appeal.

If he honours his word he will be put on a flight home from RAF Northolt in West London.
Last night security minister James Brokenshire said: 'While further steps remain, our focus is on seeing Abu Qatada on a plane to Jordan at the earliest opportunity.'
Qatada – once dubbed Osama Bin Laden's right hand man in Europe – has repeatedly used human rights laws to thwart his removal.