Tyranny is tyranny. 
Looking at the Islamic fundamentalist AKP's takeover of Turkey, I conclude that any hope for a modern Middle East to be nothing more than wishful thinking. With Islam, it could only be that way.
NOTE: The Soviets played on the ignorance of many concerning "democratic rule", so to the Muslims as well, it's called process over substance.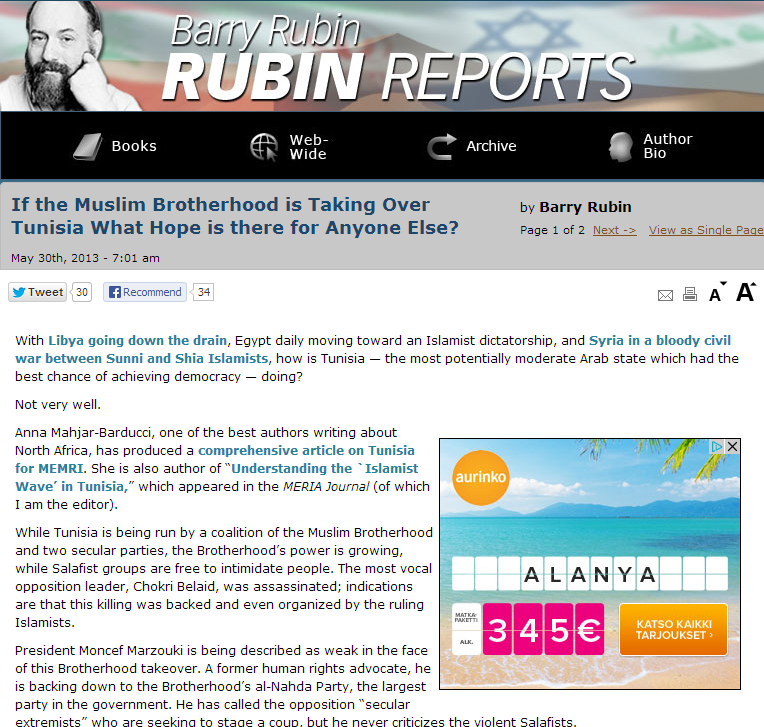 Note that his claiming the opposition seeks to seize power by force authorizes "regime defenders" to attack them by force. In fact, Marzouki threatened that opposition members who were trying to overthrow the government would be hung. He has threatened anyone criticizing Qatar — al-Nahda's financier — with prison.
Unlike other Arab countries, however, the moderate democratic opposition is well-organized and has not been intimidated. Not yet, anyway.
On March 31, 2013, Marzouki's own party — the National Council of the Congress for the Republic — appointed the president's chief of staff Imed Daimi as secretary-general. He was soon forced to resign, however, when it was pointed out that it was strange to have a "center-left" and "secular" party led by a man with a long record of having been an Islamist militant. He was also a featured speaker for the Turkish Islamist front group, Union of Good, which has connections with terrorist groups.
Whatever Daimi's current views, the idea that the president's party and one of the governing coalition's two "liberal" members would have been headed by an Islamist fellow traveler stirred up strong objections.
Like the Communists historically, Islamist groups have been adept at creating front groups, fellow travelers, and massive disinformation campaigns (see the creation of the "Islamophobia" theme in the West).
Meanwhile, the main Salafist group in Tunisia — Ansar al-Sharia, which has periodically engaged in low-level violence – has now threatened to launch a war of terrorism against the ruling party, which it says is only pretending to be Islamist.