I have an idea on how to deal with the following scenario:
The Jewish students who encountered the SJP "checkpoint" outside of CMC's dining hall were overwhelmed.  Several began to cry, and one of them sought out the help of an Israeli CMC economics professor.
A bunch of pro-Israel supporters should strap on sandwich boards with the following and try to run the demo "blockade" with video rolling. It would effectively end the propaganda tactic used on campuses everywhere.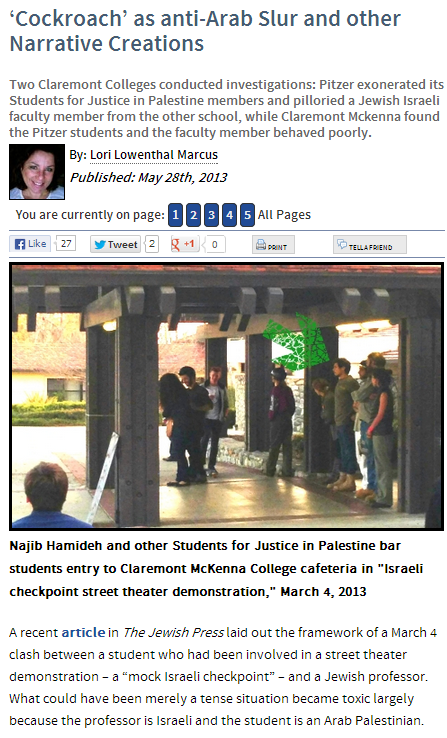 The sensationalized news hook was that the professor called the student "a f[expletive deleted] cockroach." As some also reported, the professor said his inappropriate language was provoked by the student saying to him, "I will hunt you down."
Facts that are only now coming to light suggest that there is more – and maybe less – to the story. Working carefully through the details reveals important facts about the way anti-Israel groups act and are treated on American college campuses today.
The goal of the anti-Israel student demonstration, led by the Students for Justice in Palestine, was to show how abusive and intimidating the Israeli Defense Force is for Arabs who have to go through checkpoints.  The SJP students played the role of the "bad guys," the IDF soldiers, and the Claremont colleges students trying to enter the dining hall were forced into the role of Arabs passing through the SJP's idea of Israeli checkpoints.  Those students were subjected to a gauntlet of students dressed in combat fatigues, standing shoulder to shoulder, demanding that identification before being allowed in to Claremont McKenna's Collins Dining Hall.
This "street theater" demonstration was only one of several Claremont SJP's Israeli Apartheid Week events for the day.  An earlier one allegedly involved blocking the entrance to a Pitzer classroom building.  One person who refused to be named or to participate in this article claimed that the SJP students yelled "F[expletive deleted] off Jews!" to Hillel students who tried to enter the building.