These watermelon socialists are pathetic.
I have run into them from time to time here in Finland, they're as vehemently anti-Israel as their co-ideologues in Germany.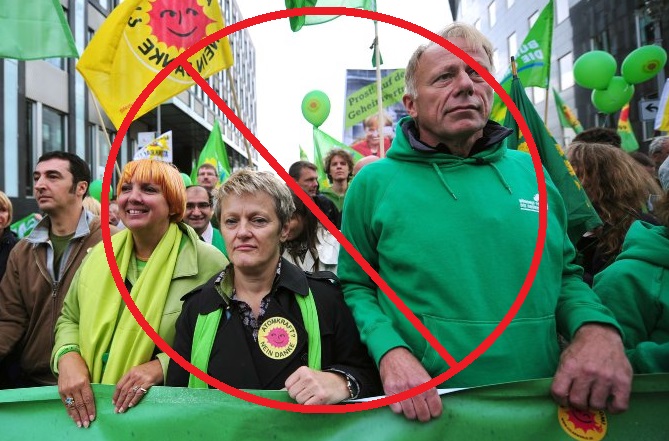 Israeli embassy slams Germany party over labeling
By BENJAMIN WEINTHAL, JOHANNES C. BOCKENHEIMER
05/23/2013 01:37
Embassy calls efforts of German Green Party to label products from West Bank "another try to negatively single out Israel."
BERLIN – The Israeli embassy slammed the German Green Party on Wednesday for its Bundestag efforts to label products from the West Bank, calling those efforts "another try to negatively single out Israel while promoting an economic boycott of it."
In a statement to The Jerusalem Post, the embassy said it was "highly unfortunate that Bundestag members from the Greens, which consider themselves peace advocates, choose to focus on an issue that will find its solution in a final agreement between Israel and the PA [Palestinian Authority], instead of directing their efforts to promote what is mostly needed at this time – pressuring the Palestinians to return to direct bilateral negotiations without any preconditions (as [US] Secretary of State Kerry is doing these days)."
The Green Party submitted a lengthy parliamentary questionnaire to the federal government in late April, seeking answers about the Merkel administration's policies toward imports from settlements in the West Bank. In a letter dated May 13, Dr. Emily Haber – a state secretary in the German Foreign Ministry – appears to have conveyed a new and explicit position for Chancellor Angela Merkel's government.
"The label 'Made in Israel' is, according to the opinion of the federal government, only allowed for products from within the borders of Israeli state territory before 1967," stated the letter.
When asked for clarification about the Haber letter, the German Foreign Ministry explained to the Post that "products from Israeli settlements have for a long time been sold in the EU. The EU is working on joint guidelines for a correct labeling of the [product] origin in the framework of EU consumer protection law. We are not conducting a discussion about boycotts."