Or as I will take to calling it: "When Allah came to London."
We are going to see much more similar attacks, as Stephen Coughlin points out in an interview with Vlad. Again, al-Qaida has shifted its strategy to these kinds of attacks, it's going to be that much more difficult to infiltrate and disrupt their plans since they've taken to a more fragmented (read= not interconnected/related) approach to their terrorism.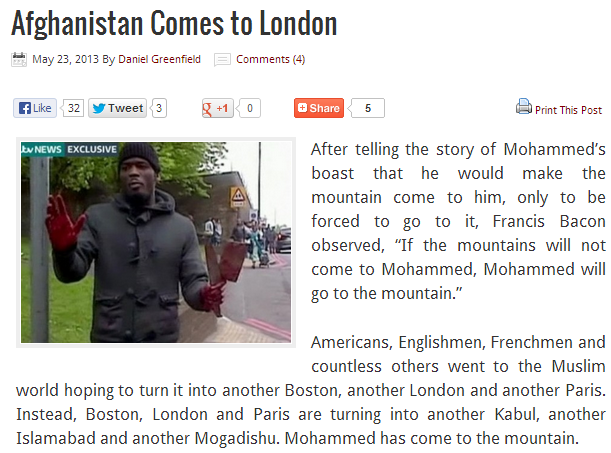 Five years ago, the sight of Muslim terrorists beheading British soldiers was a horror that could happen in Afghanistan or Iraq. Now it has happened in broad daylight in the capital of the United Kingdom.
In a decade, 600,000 white Londoners have fled the city. Those are the sorts of numbers you would expect from the Syrian civil war. Their place has been taken by the million Muslims occupying the city.
Woolwich Common, adjacent to the area where the attack took place, is described as an "inner-city multicultural neighborhood" which is to say that it is more ethnically diverse than the London average; it has more violent crimes than average and is among the 5% of poorest neighborhoods. Only 58% of its population was born in England and a quarter of its residents immigrated in that same dreadful decade.