Horrified.
 I come home from walking my dog, watering my lawn and garden and paying some bills, and get an email from Scottish Infidel (h/t) asking "you've probably already seen this", then I click on the link………..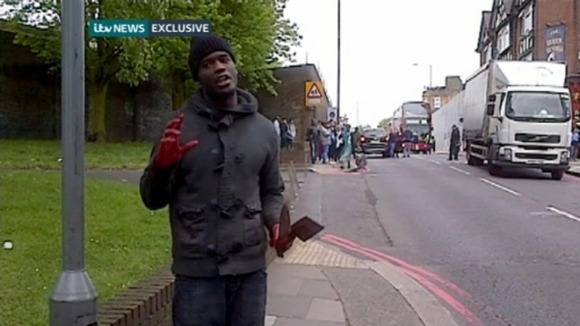 UPDATE: They were shouting "allahu akbar" (h/t: Brian of London: It's the brazenness of the attack, they don't give a shit, it's about supremacy. we can just hack you on the streets)
May 22st, 2013 -PERSON DEAD WITHOUT A HEAD CONFIRMED FOR BRITISH SOLIDER. TWO SOMALIANS CRITICALLY INJURED.

One man is reported dead and two others injured amid reports of a shooting incident close to the Royal Artillery Barracks in Woolwich this afternoon.One witness reported seeing a man beheaded in the street in an attack by two men.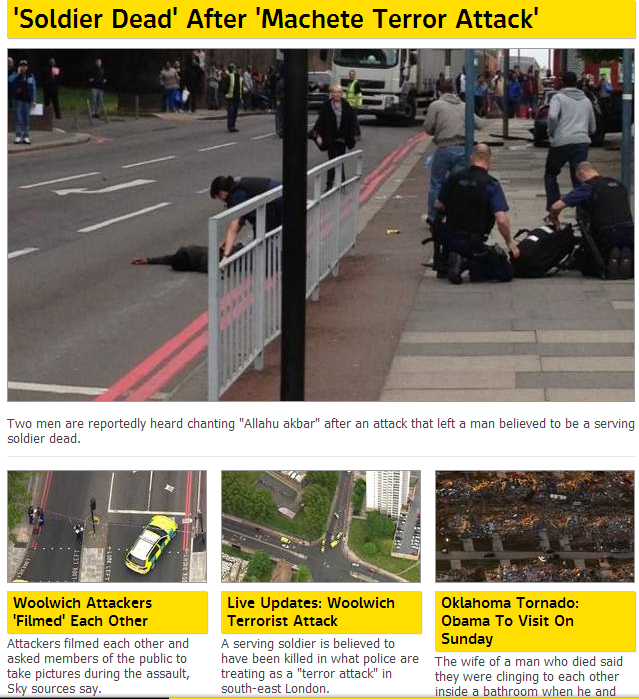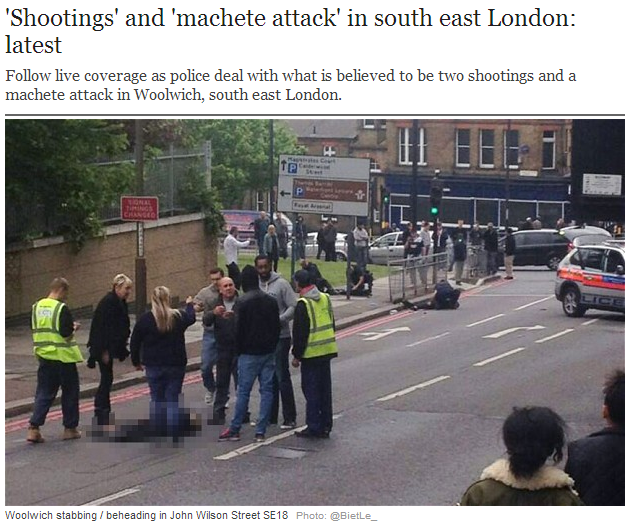 By Daily Telegraph reporters
6:10PM BST 22 May 2013
18.22 One witness, who declined to be named, says the attackers were "praying like it was a sacrifice" and "making people take videos".
18.17 Theresa May, the Home Secretary, brands it a "sickening and barbaric attack."
She says in a statement: "I have been briefed by the Metropolitan Police Commissioner and the director general of the Security Service.
"It has been confirmed to me that a man has been brutally murdered this afternoon in south east London.
Fighting back tears, James said the men treated their victim as a 'piece of meat' after he was dead.


'These two guys were crazed,' he told the radio station. 'They were just animals. They dragged him from the pavement and dumped his body in the middle of the road and left his body there.'
Two men 'hack soldier wearing Help for Heroes T-shirt to death with machetes in suspected terror attack in London street before being shot by police' 
Theresa May calls a meeting of the government's emergency committee Cobra

Soldier attacked with meat cleavers and knives in Woolwich


Eyewitness says: 'They were hacking at him, chopping him, cutting him'

Two suspects waited until police arrived before trying to attack them

Prime Minister David Cameron described the killing as 'truly shocking'

Suspects used 'a number of weapons' in their attack, police say

By ROB COOPER
PUBLISHED: 14:49 GMT, 22 May 2013 | UPDATED: 17:13 GMT, 22 May 2013
[…]
'I don't know if they died, they were taken away in the helicopter. A blanket was put over the white guy lying in the road. 'I just can't believe what I saw.'
Mother-of-four Julia Wilders, 51, said she was travelling past the scene and saw two men hacking at a man with meat cleavers.

'Graham was driving and we drove past the car which was up against a lamp post.

'There were two black guys that looked like they were trying to resuscitate a white guy on the floor. I thought there'd been an accident.

'But then I saw they were using meat cleavers to hack him up. We live just behind where it happened and once we got back we walked back to have a look and that's when I saw one of the black guys pull out a handgun.
Eyewitness: Twitter user Boya Dee wrote that the suspects tried to attack police officers after hacking at a man with a machete