When even converting to Islam is not enough to spare a girl from victimization. Wait, I spot an oxymoron here.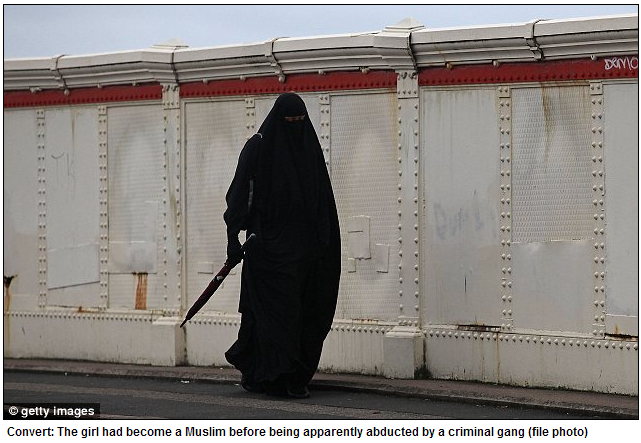 Schoolgirl who converted to Islam 'ran away from home after getting married over the phone to older man she had never met'
Girl, 15, signed up to website which finds brides for Muslim converts

Left 

France 

home and went to live with 28-year-old in town 300 miles away

Now she is testifying against gang who 'ran website abducting children'

By PETER ALLEN
PUBLISHED: 13:13 GMT, 16 May 2013 | UPDATED: 13:13 GMT, 16 May 2013
A schoolgirl who secretly converted to Islam left home to live with an older man after being forced to marry him over the phone, it was claimed today.
The 15-year-old, whose British father is a Christian, is set to give evidence against seven men arrested in Mulhouse, eastern France.
All are accused of removing a child from her parents' care while running a sinister online dating site for Muslim converts. 
After being introduced to young girls on the internet, men who subscribed to the site were allowed to wed them over the phone.
In the case of the teenager, who cannot be named for legal reasons, she completed her marriage vows and then immediately left home to live with him. 
Detectives believe she was forced to convert to Islam in secret, along with three female friends aged 17, 18 and 19.
The girl's father informed local prosecutor Herve Robin after his daughter started wearing a burka and expressing 'extreme Islamist views', according to prosecutors. 
'She had converted without her parents' knowledge after browsing social network sites on the internet,' said a source close to the case. 'Her father, who is British, was deeply shocked when he found out what had happened.'
Mr Robin confirmed that the schoolgirl was forced to marry the unnamed Muslim man, who is 28, 'over the phone'.