Gross epic fail!
This is why we loathe the legacy media, you simply can't trust them. Just watch the same cars pass both of these hack journalists on by, they should have just turned to each other and shouted.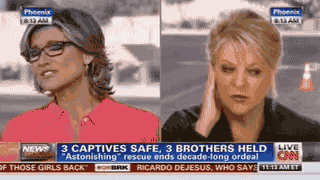 Bizarre moment CNN anchors unsuccessfully try to pretend they are not in the same parking lot
By DAILY MAIL REPORTER
PUBLISHED: 23:34 GMT, 8 May 2013 | UPDATED: 07:45 GMT, 9 May 2013
How do you know when two television correspondents are in the same parking lot pretending that they are in separate locations?

When you can see the same cars going by in both screens.

Producers at CNN apparently thought viewers wouldn't notice that anchors Nancy Grace of HLN/Headline News and Ashleigh Banfield of Newsroom were standing no more than 30 feet way from one another as they manipulated the footage and placed Grace on Banfield's right instead of her left.
Read more:  H/T: Ram Lubranicki
NOTE: No audio