No statute of limitations on war crimes.
H/T: Gaia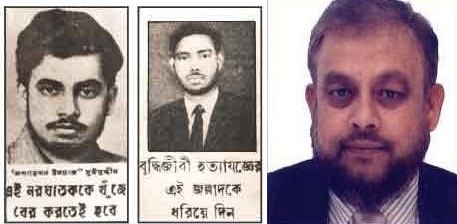 NHS boss faces death penalty over charges of torture and 18 murders in Bangladesh
War crimes tribunal set to bring damning indictments against NHS director of spiritual care

Prosecutors want him extradited to face trial over atrocities committed in Bangladesh in 1971
By ABUL TAHER
PUBLISHED: 21:08 GMT, 13 October 2012 | UPDATED: 12:07 GMT, 17 October 2012
One of Britain's most important Muslim leaders – who has a senior role in the NHS – is to be charged with 18 murders by a war crimes tribunal in his native Bangladesh, investigators have told The Mail on Sunday.
Chowdhury Mueen-Uddin, who is director of Muslim Spiritual Care Provision in the NHS and is also a chairman of the Multi-Faith Group for Healthcare Chaplaincy, is accused of abducting, torturing and killing 18 journalists, academics and doctors during the bloody war of independence in Bangladesh in 1971.
Mr Mueen-Uddin, 63, who strongly denies the allegations, is believed to have fled Bangladesh shortly after the war ended, and has been living in London since the early Seventies.
Bangladesh's International Crimes Tribunal (ICT) – which has been set up to try the country's most notorious war criminals still alive – has announced that it has completed its year-long investigation into Mr Mueen-Uddin. The ICT's prosecution wing will announce formal charges against him in the next few days, said a senior official at the tribunal.
Sanaul Huq, the Inspector-General of Bangladesh's national police force, who is co-ordinating the ICT investigation, said his investigators believe that Mr Mueen-Uddin killed dozens of people during the independence war, but they can link him only to 18 murders with evidence and eyewitness testimonies.
The ICT said Mr Mueen-Uddin and his associates allegedly subjected their victims to horrendous torture before killing them and dumping their bodies in sports grounds which earned the nickname 'killing fields'.