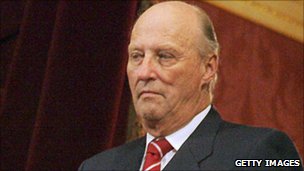 This picture was taken during the press conference where they (Gilbert & Fosse) unveiled their co-authored (and in part state sponsored) book "Eyes in Gaza" that detailed their experiences during Operation Cast Lead before the adoring media. Gilbert is known for his notorious fake chest compression of a little boy supposedly hit by an Israeli rocket.
NOTE: Both Gilbert & Fosse covered over Hamas' headquarters based in the basement of the Shifa hospital. That's a war crime.
A very loathsome duo, Mads Gilbert and Erik Fosse.

From the always excellent Norway, Israel and the Jews blog:
"They say once is an accident, twice is a coincidence, but now I really start to wonder about the political astuteness of the King and his Court. One would have thought that after the Trond Ali Linstad affair, the relevant responsibles would do a better job of vetting the prospective recipients so as to not embarrass the Royal House again. To no avail, here they go again and appoint Dr. Fosse to commander of the St. Olavs Order.This is the same Dr. Fosse who allowed armed combatants to take refuge at the Shifa Hospital in Gaza in the Cast Lead operation in December 2008/January 2009.At no point did he protest how the same combatants put the lives of the patients in his care in further damage, but also tolerated that acts of terror and war crimes were planned and executed from this compound."