HRW: sock puppets for terror.
Read also Lori Lowenthal Marcus': Human Rts Orgs Nominate Anti-Israel Pro-Terror Woman for HR Prize
Will Mona Seif become, like Samira Ibrahim, one whose social media activity rocketed her to a spot in the global limelight, but then caused her ignominious downfall as well?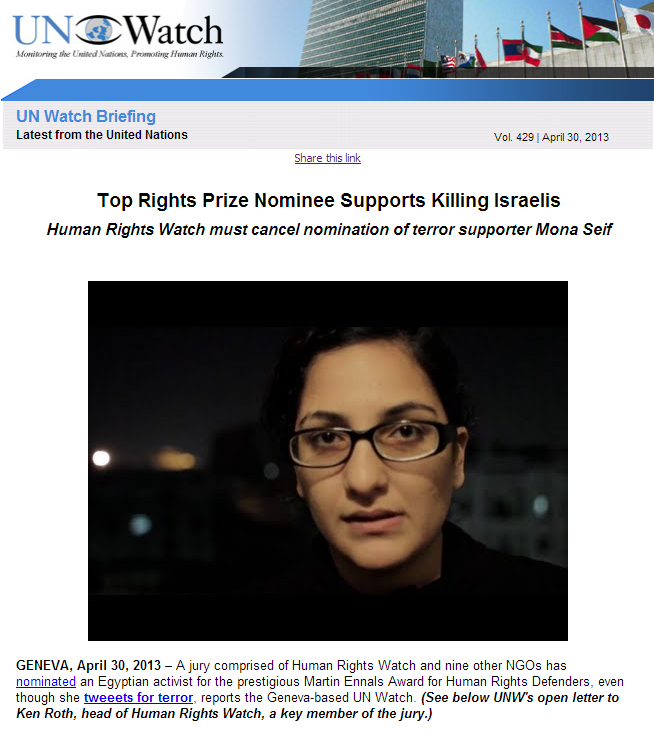 Several Egyptian human rights activists expressed shock at the nomination. Amr Bakly, who heads the Cairo Liberal Forum, tweeted:
"The Martin Ennals Award is not for terrorist supporters. . . Mona Saif is a terrorist supporter!" Maikel Nabil, a former Amnesty International prisoner of conscience, jailed by Egypt in 2011 for his human rights activism, also expressed alarm: "The Martin Ennals Award can be awarded to Mona Seif if its committee is able to explain to the victims of terrorism why they deserve to be killed by those whom Mona supports."
Letter Urging HRW to Cancel Nomination of Terror Supporter
The following letter was sent today to Human Rights Watch executive director Kenneth Roth.
April 30, 2013
Dear Mr. Roth,
I want to commend you again for expelling Richard Falk from your organization, after my December letter to you protesting his support for Hamas terrorism, 9/11 conspiracy theories absolving Al Qaeda for attacks on Americans, and antisemitism. Although Falk had served on the Human Rights Watch committee for many years, you admirably removed him within 24 hours of receiving our letter. Despite the outrage of Falk and his supporters, you rightly held to your decision.
Today I regret that, yet again, I must ask you to distance your organization from another open supporter of terrorism. I hope and trust that you will act with the same alacrity.
We are shocked to learn that Human Rights Watch has joined with others in naming Mona Seif of Egypt as one of three Final Nominees for the 2013 Martin Ennals Award for Human Rights Defenders—termed by some "the Nobel for human rights"—on whose jury you play a key role.
By rewarding a person with a pattern and practice of publicly inciting to violence against civilians, terrorism, and war crimes, you are dishonoring and indeed desecrating the memory and legacy of human rights activist Martin Ennals.
We urge you to call on the jury to immediately cancel Ms. Seif's nomination, on grounds of her public advocacy of violence against civilians, terrorism, and war crimes, which is in complete violation of the Award criteria of "promotion and protection of human rights," and of the noble principles of your own organization.
Compelling evidence of the above can be found, for example, in the following messages published on the Internet by Ms. Seif to her 180,000 Twitter followers, and to the world: