It's like the squeezing of a balloon, one end fills with air compressed from the other end.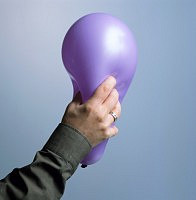 "The armed groups we are fighting are fleeing to Libya," said Colonel Keba Sangare, commander of Mali's army garrison in Timbuktu. "We have captured Libyans in this region, as well as Algerians, Nigerians, French and other European dual-nationals."
Libya faces growing Islamist threat
Exclusive: Diplomats warn that militants squeezed out of Mali by western intervention are hitting targets in Tripoli
Chris Stephen in Tripoli and Afua Hirsch in Timbuktu

The Guardian,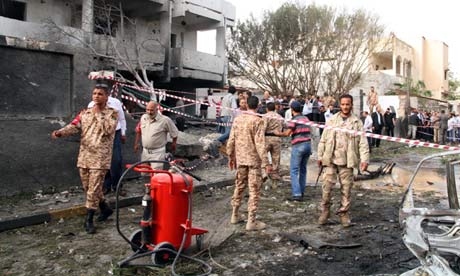 Libyan security personnel gather outside the French embassy in Tripoli following a car bomb blast last week. Photograph: Xinhua/Landov/Barcroft Media
Diplomats are warning of growing Islamist violence against western targets in Libya as blowback from the war in Mali, following last week's attack on the French embassy in Tripoli.
The bomb blast that wrecked much of the embassy is seen as a reprisal by Libyan militants for the decision by Paris the day before to extend its military mission against fellow jihadists in Mali.
The Guardian has learned that jihadist groups ejected from their Timbuktu stronghold have moved north, crossing the Sahara through Algeria and Niger to Libya, fuelling a growing Islamist insurgency.
"There are established links between groups in both Mali and Libya – we know there are established routes," said a western diplomat in Tripoli. "There is an anxiety among the political class here that Mali is blowing back on them."
That anxiety escalated last week after militants detonated a car bomb outside the French embassy, wounding two French guards and a Libyan student, the first such attack on a western target in the Libyan capital since the end of the 2011 Arab spring revolution.
ALSO:  Published on Apr 28, 2013
http://www.euronews.com/ Gunmen surrounded Libya's foreign ministry in a protest against officials who worked for former leader Muammar Gaddafi's. The protesters were demanding a law to stop these officials getting jobs in the new administration.
Video h/t: Vlad