You see folks, that area should have been included as ground zero as well.
That mosque disgraces and dishonors the area, it's an outrage, but, as I have said before, as long as the non-Muslim is outraged, the Muslims care not a whit.
H/T: Gaia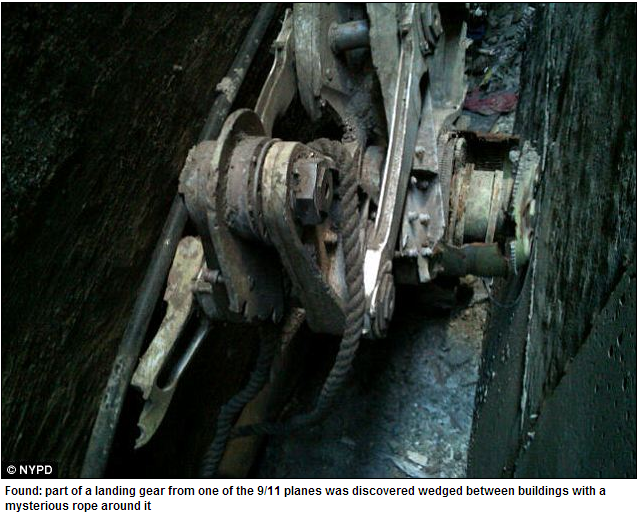 Part of landing gear from 9/11 plane is found wedged between luxury condos and Ground Zero Islamic center – 11 years after attacks
Police say the 5-foot piece of landing gear from one of the planes was found Wednesday lodged in a tiny alley just blocks from Ground Zero

Area is being treated like a crime scene and Commissioner Ray Kelly told reporters the gear had a rope wrapped around it and may could have been lowered into the 18-inch gap

Medical Examiner will determine whether or not they search for human remains in the alley between the two lower Manhattan buildings

By MEGHAN KENEALLY, JOSHUA GARDNER and SNEJANA FARBEROV
PUBLISHED: 21:05 GMT, 26 April 2013 | UPDATED: 07:40 GMT, 27 April 2013
Police have found a sizable piece of one of the engines from a plane that crashed into the World Trade Center, more than 11 years after the September 11, 2001 terrorist attacks.

The piece of landing gear was found wedged between two buildings just blocks from Ground Zero- in between the buildings at 51 Park Place and 50 Murray Street in downtown Manhattan.

The location is particularly noteworthy because 51 Park Place is the site of the Islamic Cultural Center that stirred up controversy and months of protests two years ago when the site developers wanted to turn it into a mosque.