But don't worry, Obama says al-Qaida is beaten.
Remember the "other convert wife" of a member to another terrorist team of Islamic jihadi bombers in London on 7/7?
Well she's back in the news, as the Daily Mail reports on her recent exploits for the jihad under the auspices of al-Qaida terrorist operatives. Seems she's really committed, so that should give US law officials a moment of pause in considering whether the wife to one of the Boston bombing jihadis is up to her neck in the jihad as well.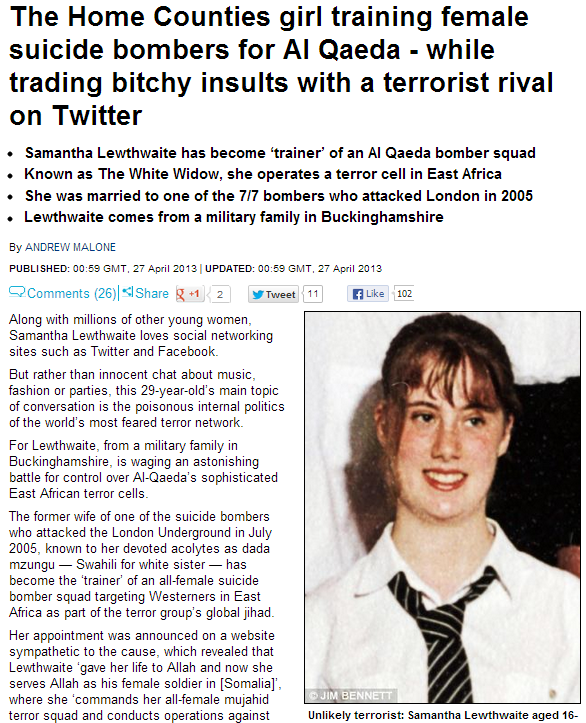 the kuffar [non-Muslims]'.

Such is her growing reputation within Al-Qaeda that Lewthwaite, who once went to school discos in Aylesbury in the latest fashions, has felt sufficiently emboldened to launch a vitriolic public attack on a powerful fellow white terror convert.
Using the medium favoured by many of her former classmates, she has taken to Twitter to denounce a rival terrorist and killer as an 'obnoxious little prat'. 
These revelations about her recent exploits come in a week when the world has been gripped by a saga with extraordinary parallels. 
In the wake of the Boston bombings, it has emerged that the elder of the two brothers thought to have carried out the attacks, Tamerlan Tsarnaev, married an 'all-American' girl who, like Lewthwaite before her, converted to Islam and took to wearing a hijab.