This happens in spite of all the educational programs about antisemitism that the German authorities have supposedly been providing over the past 60 years. Something tells me that they've been an epic fail.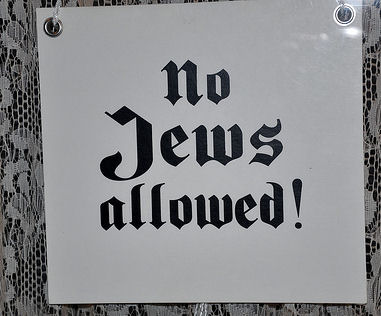 Germans in Bremen, Stuttgart lash out at Israelis
Doorman at anti-Semitism event bars Israeli from entering; city worker shows two-thumbs up to comment of family killed by Nazis.
BERLIN – German authorities and a doorman at a Left Party event abused Israelis over the past few days in Bremen and Stuttgart.
A doorman at an event on anti-Semitism barred an Israeli from entering the "controversial lecture" in the northern city of Bremen, the mass-circulation Bild reported on Wednesday. The Left Party's branch in Weser, a district in Bremen, participated in the event.
Maor S., 31, said, "I am a Jew from Israel and want to enter" the event. A doorman told him, "Everything is already owned by you, including the media."
The doorman's "contention is a hit among anti- Semites," Bild wrote.
Noemi K, who is Jewish and Maor's friend, asked the doorman "if he meant Jews," and "received no response."
A second doorman appeared and played down the statement about Jews owning the media, teacher Noemi K., 26, said, adding, "But there was nothing to be misunderstood" about the anti-Semitic statement.
The Bremen state Left Party branch distanced itself from the event, complaining about the participation of the Weser Left Party group.
Meanwhile, in the southern German city of Stuttgart, the local authorities allegedly insulted an elderly Israeli couple.
The Israeli couple came to visit a "stumbling stone" memorial for five members of their family who were murdered by Nazis, the Stuttgarter Zeitung reported on Tuesday.