A staggering loss of life. Hug your loved ones.
Just to remind ourselves, in order to keep our great societies moving along, many people are involved in dangerous work. We should be thankful, appreciative of the work people do so that we can have food on the table and all the luxuries of life available to the average person.
But first the video, and most importantly (I totally agree with fellow bloggerBrian of London)  what in the world was this guy doing there with his kid in the car in the first place!!!?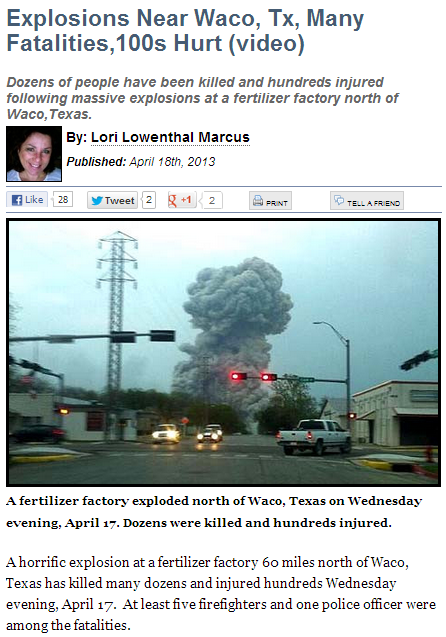 The first explosion took place at 7:50 p.m. local time, which was followed by secondary explosions.  A nearby nursing home and an apartment complex were also heavily damaged, and approximately 60 – 80 homes and businesses as well as a middle school have been completely destroyed thus far.
The explosion knocked out power to many local customers and could be heard and felt for miles around.
Local resident Lydia Zimmerman told television station KWTX that she, her husband and daughter were in their garden in Bynum, when they heard multiple blasts. "It sounded like three bombs going off very close to us," she said.
At this point no one is speculating about the source of the explosion, but tempers across America were stretched to the breaking point by the bombings at the Boston Marathon on Monday, the discovery of ricin-laced letters addressed to a Republican senator and also to President Barack Obama, and then today's explosion in Texas.