And they couldn't care less about giving offense.
That is how Islam has spread, one forced conversion after another, whether a church or an individual, it's all about Islam. Get it?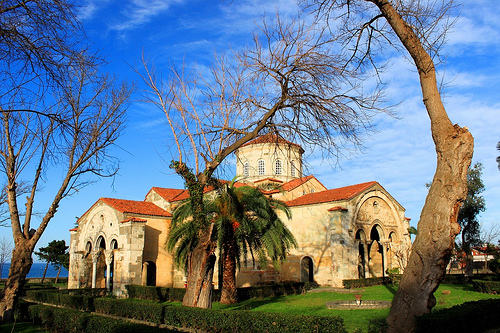 COURT: MUSEUM MUST BE CONVERTED TO MOSQUE
Art experts alarmed at precedent of Turkish church
Art history experts are expressing alarm at a court ruling in Turkey that the 13th century Church of Hagia Sophia – which has been a museum and contains irreplaceable examples of its time period – must be converted to a mosque.
The situation has been detailed by the art experts at The Art Newspaper.
There, Andrew Finkel wrote that the famous structure in Trabzon, a city along the Black Sea, will be converted to a mosque following an extended battle over its use.
Finkel is alarmed, however, because "many in Turkey believe that the Church of Hagia Sophia is a stalking horse for the possible re-conversion of its more famous namesake in Istanbul, the Hagia Sophia Museum."
"A building covenanted as a mosque cannot be used for any other purpose," Mazhar Yildirimham, of the General Directorate of Pious Foundations, said in the report. The organization made the claim that the structure is "an inalienable part of the foundation of Sultan Mehmed II," who reportedly originally took over the church building and turned it into a mosque in 1462.
Yildirimham said in the report regarding the walls that are covered with Christian art, "There are modern techniques for masking the walls."
The structure for the last 50 years has been run by Turkey's Ministry of Culture and Tourism. It also had been used as an arsenal and a cholera hospital in the mid 1900s.