The anti-Israel nutjobs do have a choice, just go without.
A good buddy of mine, fellow pro-Israel blogger, TINSC, told me "years ago", that the boycott against Israel movement at the time (and still is) a drastic, epic fail. Oh, and don't kid yourself, it's not out of a 'spirit of rapprochement' that Israel's enemies are doing business with the Jewish state, it's just that their need for Israel clearly outweighs any of their antisemitic inclinations.
NOTE: As my pal always says, "In a world void of antisemitism, the War Against Israel (WAI) could not exist." It couldn't be any more true today than it was the first time he mentioned it to me.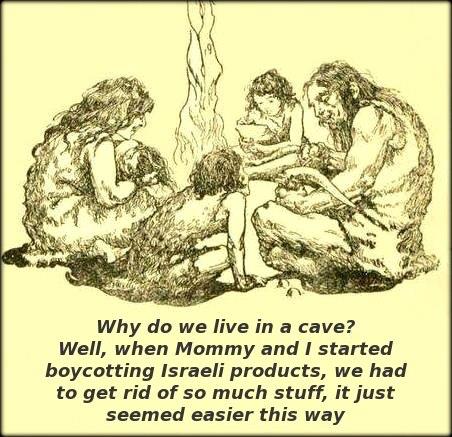 The eastern Mediterranean has seen its share of economic collapse in recent years — including in Greece, Cyprus, Egypt and Syria. Yet to the BDS crowd's chagrin, Israel has kept rolling along, even while waging three minor military conflicts (one against Hezbollah, two against Hamas), losing an important alliance with Turkey, and suffering international opprobrium in the wake of the 2011 flotilla raid. All of this makes the BDS campaign against Israel appear not only bigoted, but ridiculous.
Jonathan Kay: The BDS movement against Israel has accomplished less than nothing
The student union at York University in Toronto has voted, by a margin of 18-2, to endorse the "Boycott, Divestment and Sanctions" (BDS) movement against Israel — a gesture that follows on BDS votes by several other Canadian university student unions. The result is entirely symbolic: The student union has no power to compel the university (or any other entity) to boycott Israel — and York, properly, has no plans to do so. Nevertheless, the decision by York's Federation of Students has succeeded in bringing the whole issue of Boycott, Divestment and Sanctions back into the news, if only for a day or two.
[…]
Closer to home, BDS also has the effect of alienating many Jewish students on campus, since they see the singling out of the Jewish state as an act of hatred directed at their faith group.
The BDS campaign is also morally hypocritical. Not all of Israel's policies — especially in regard to settlement construction — are defensible. Yet in humanitarian terms, nothing Israel does to Palestinians comprises even so much as a rounding error on the horrors perpetrated by such nations as Syria, Iran and Sudan against their own citizens. The plight of Gazan religious and political dissenters — not to mention gays and women in the Hamas-run enclave — is especially notable, given that many of the same activists who champion BDS also have championed the Boat to Gaza movement and other efforts to equip and legitimize Hamas.
[…]
But eight years in, the movement has accomplished nothing. Indeed, less than nothing: For it is thanks to BDS, and similar gestures of anti-Israel antipathy (especially at the UN), that many Israelis — including  Prime Minister Benjamin Netanyahu — have become convinced that their country will always be the victim of a vicious moral double standard. If Mr. Netanyahu has struck a more standoffish, militant, uncompromising tone than his predecessors when dealing with the international community, it is largely because he has come to see the hatred of his country as irrational and unremitting.