The situation Muslim women finds themselves in, more than not.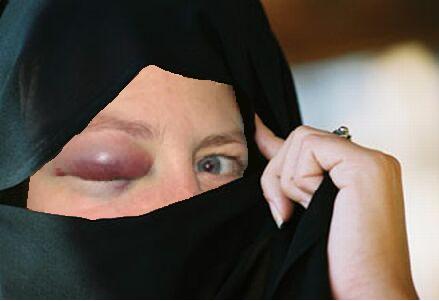 Afghan women in Kabul prison over 'moral' crimes
By KATHY GANNON | Associated Press
KABUL (AP) — Lost and alone in a strange city Mariam called the only person she knew, her husband's cousin. She worried he wouldn't help her because she had left her home in Afghanistan's northern Kunduz province, fleeting to the capital Kabul to escape his relentless and increasingly vicious beatings. But he promised to help. Too busy to come himself he sent a friend who took her to "some house", held a gun to her head and raped her.
Finished with her he settled in front of a TV set, the gun on a table by his side. Choosing her moment, Mariam picked up the gun shot her assailant in the head and turned the gun on herself.
"Three days later I woke up in the hospital," she said, slowly, shyly removing a scarf from her head to reveal a partially shaved head and a long jagged scar that ran almost the length of her head where the bullet grazed her scalp.
From the hospital Mariam was sent to a police station and from there to Badam Bagh, Afghanistan's central women's prison where she told her story to The Associated Press. For the past three months Mariam has been waiting to find out why she is in jail, the charges and when she can leave.
"I haven't gone to court. I am just waiting."