There has been speculation over the reasons behind the NORK's imbecilic war rants in recent days, that the North Koreans regime is working in tandem with the Iranians to help steer US attention away from Tehran. Also, the Russians are not keeping still nor are the Chi-Coms, so one could not be blamed for coming to the conclusion that a perfect storm is brewing.
The U.S. under Obama has shown that it's more than willing to vacate from its traditional  position as leader of the free world. The void left will in fact be filled by whatever power with the wealth and the means to do it. We are now seeing that take place.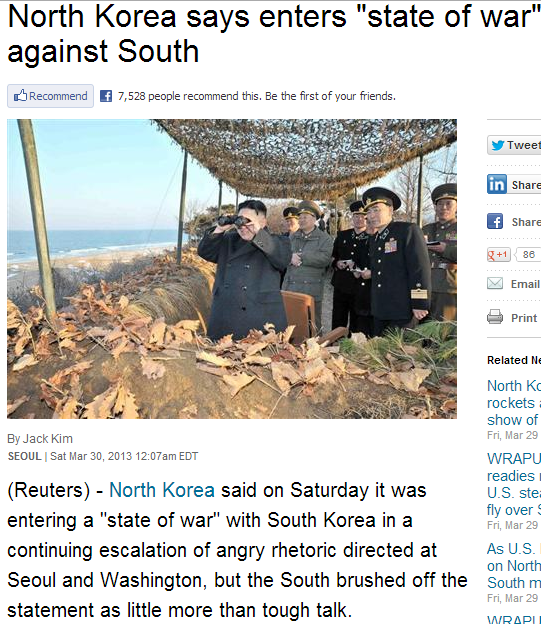 The two Koreas have been technically in a state of war for six decades under an armistice that ended their 1950-53 conflict. Despite its threats few people see any indication Pyongyang will risk a near-certain defeat by re-starting full-scale war.
"From this time on, the North-South relations will be entering the state of war and all issues raised between the North and the South will be handled accordingly," a statement carried by the North's official KCNA news agency said.
KCNA said the statement was issued jointly by the North's government, ruling party and other organizations.
There was no sign of unusual activity in the North's military or anything to suggest an imminent aggression, a South Korean defense ministry official said.
North Korea has been threatening to attack the South and U.S. military bases almost on a daily basis since the beginning of March, when U.S. and South Korean militaries started routine drills.