He actually thought he could waltz back in.
Eric Harroun deserves a dumber than dirt award. Should have sent him straight to GITMO, since by default he's no longer a U.S. citizen the day he joined up with al-Qaida linked forces.
NOTE: Here's the vid Vlad captured a full month before the legacy media caught on: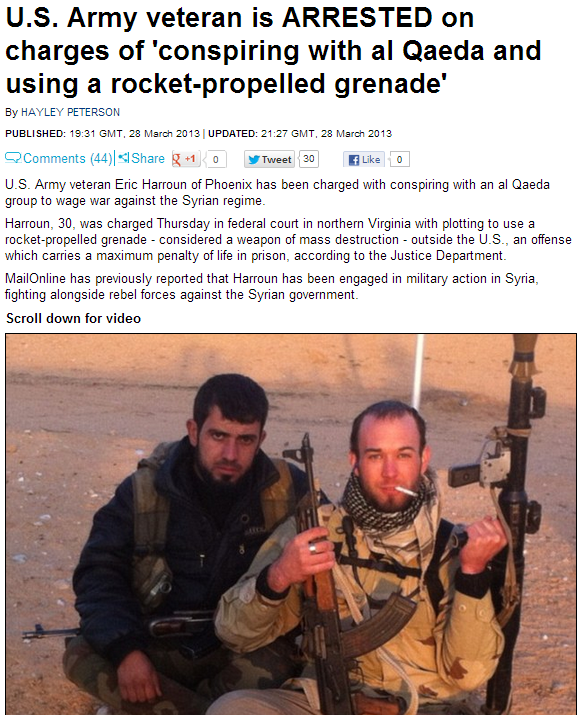 The FBI began investigating Harroun after videos and photos were posted online of him fighting in Syria, posing with weapons and boasting of killing members of the Syrian regime. In one post, he claims credit for downing a Syrian helicopter.

Prosecutors say Harroun has also been fighting with the al-Nusrah Front, which is commonly known as al Qaeda in Iraq. According to the State Department, al-Nusrah has claimed responsibility for roughly 600 terrorist attacks in Syria.

Harroun returned to the U.S. on Wednesday after several interviews with FBI investigators in Turkey, where they grilled him about his dealings with al-Nusrah, according to a nine-page criminal complaint.

When he arrived at Dulles International Airport in Virginia, he agreed to be interviewed for a fourth time by the FBI. During the interview, he stated that he had fought with al-Nusrah as part of an 'RPG' – or rocket-propelled grenade – team. 
Harroun said that as part of the team, he carried three rockets in a backpack along with an AK-47 rifle. He also confirmed to investigators that he had successful hits on Syrian targets.

In earlier interviews with the FBI in Instanbul, he explained how he ended up with al-Nusrah.
Harroun explained during a March 12 interview that he and members of the Free Syrian Army had engaged in a joint attack with the al-Nusrah Front on a Syrian encampment and he was separated during battle from the Syrian rebel fighters