Norwegian government admits it's connected to terror.
What a difference in tone. They always were great in accusing Israel, now they have to defend themselves. Must really suck for the government to be outed on the international arena as having something in common with Anders Breivik.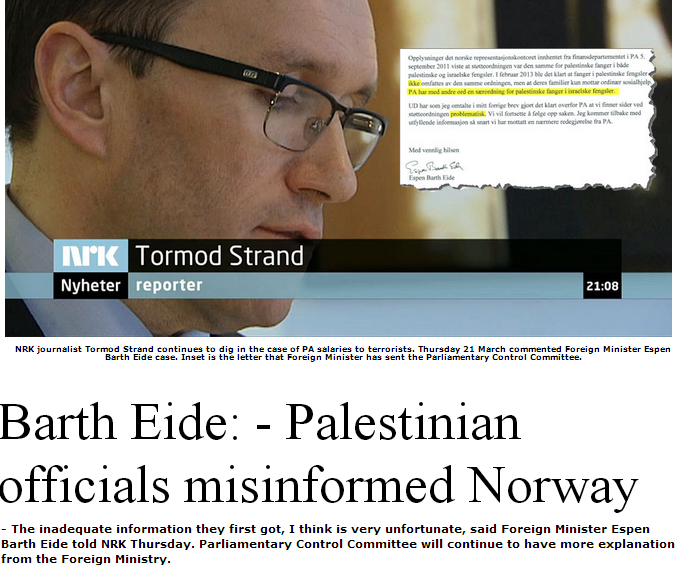 A TRANSCRIPTION OF STATEMENTS MADE BY FM ESPEN BARTH EIDE ON NORWEGIAN TELEVISON CHANNEL NRK ON MARCH THE 21ST 2013.
Newscaster in the studio: Norway's FM Espen Barth Eide now enters the issue of the Palestinians incarcerated over terrorism, meanwhile receiving large sums of money by the authorities in Palestine. Actually, Norway donates large amounts of money every year to the PA; according to FM Eide the government has been misinformed on this issue.
Journalist Tormod Strand: FM Espen Barth Eide is now making an attempt to clarify the issue of which Dagsrevyen has revealed on fiscal support by the PA to Palestinian prisoners convicted of terrorism. At first the (Norwegian) MFA denied there was such an arrangement; after investigating thoroughly with Palestine, things looks somewhat differently.
FM Espen Barth Eide: I have certainly not received documentation of this money not going to terrorism convicts; it is being informed of those being incarcerated for long periods receiving more money than short period convicts. And exactly that is the reason why we, with the UK, have asked to receive further documentation in a letter recently sent the PA.
Strand: The FM says the PA has misinformed Norway.
Barth Eide: The insufficient documentation received at first, this was rather unfortunate..
Strand: NRK's issues led to the Storting's Committee on Scrutiny and Constitutional Affairs raising this matter. There is a suspicion the Storting has not received the correct information from the (Norwegian) MFA. On yesterday, the Committee received a new letter. The leader of the Committee is not still content.
Member of the Storting, Anders Aanundsen, leader of the Committee of Scrutiny and Constitutional Affairs (Progressives): I think there are some weaknesses in the letter. We have still not received full clarity over when the MFA actually got to know about this arrangement being different from what he had informed the Storting on earlier; this means we have a basis to further evaluate whether a new letter should be sent after this Easter.