From a two year old post on Vittorio Arriigoni (posted below) an Italian (faux) peace activist murdered in Gaza by the very people he believed supported his efforts, comes a major rant & rave in the comments by someone whose IP is from Albuquerque New Mexico.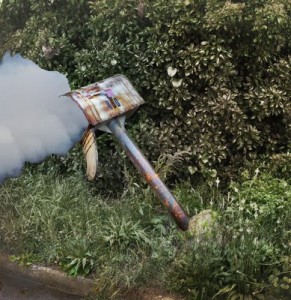 Smoking!
First the 'offending post':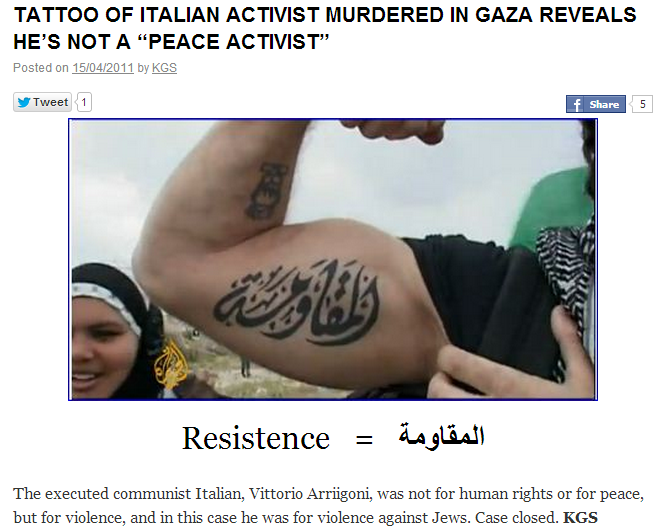 Here is Jack Nickles' comment, and just imagine such a lunatic standing in front of you spouting this off with spittle shooting out with each word as well as dribbling down his face. These are the types of lunatics that the IDF and Israeli border guards have to deal with on a daily basis, and not lose their cool over. They (the Israelis) can be forgiven for handing out the occasional helmet butt or chest punch, IMHO.
Your an ignorant asshole and you probably have a small dick. People like you are such fucking pricks i swear to god i could beat you shitless with my keyboard until the keys fall off and spell YOU FUCKING IDIOT WAKE THE FUCK UP!!! BUILDING A WALL AROUND GAZA IS NOT LEAVING GAZA THERE IS SO MANY THINGS YOU WILL NEVER UNDERSTAND YOU FUCKING IDIOT LIVE THE LIFE OF A PALESTINIAN AND YOU WILL UNDERSTAND WHY THEY ARE SO ANGRY. JUST BECAUSE UNDENIABLY TERRIBLE THINGS HAPPENED TO JEWS DOES NOT JUSTIFY THE TREATING PEOPLE AS SECOND CLASS CITIZENS JUST FUCK OFF THIS IS NOT WORTH MY TIME JUST GO CRAWL IN A HOLE AND DIE YOU IGNORANT FUCK GOD DAMMMMMMMMMMMMMN
NOTE: It matters not to the moron any evidence provided disproving his claims. Who knows, out of embarrassment during a public debate he might concede on an issue, then the very next day he's flapping his yap with the same mantra.
1.) Israel controls its border with Gaza because it has too. Rocket, mortar and grenade attacks, along with the occasional infiltration, demands that they do so. The protection of their citizens are paramount, that's one of the key duties of the state, protection of the civil society.
2.) Gaza has another border that creeps like 'Jack' will never admit to, for you see, they haven't a chance at protesting the Egyptians. They know if they were to pull a tenth of the crap that they pull with the Israelis, they would be coming home in rubber bags, after being brutally beaten and perhaps even raped. That's why you'll never see a "flotilla' or BDS movement aimed at Cairo. They would have their heads handed to them.
3.) Ok, so many Arabs in Gaza are angry, but many are not. The ones who are not angry, are the ones benefiting from the smuggling, international aid money and from just plain corruption, they are the ones who are doing well while keeping their own people down.  For you see, the Hamas are just as corrupt and self serving as the Fatah. The goal is not to help their people, the goal is to deligetimize Israel bit by bit in the eyes of the international community, with the end goal being its destruction. That's it, nothing more.
4.) Israel allows the transfer of normal materials and goods into Gaza on a daily basis, just check its MFA website and you'll get the mundane details. That this isn't publicly well known is due to the fecal headed media, who are in the tank for these people for whatever the reason. That the Palestinians have a problem with obesity, children as well, tells you all you need to know about their food situation, goods are plentiful, the stores are full.