Clueless boob.
Not without a civil society actively functioning on all levels within the PA.
Kudos to Obama for saying "the Jewish state of Israel". He then makes it clear that he believes that Israel is dealing with a rational neighbor, in much the same way the US has a rational neighbor in Canada. This shows the fundamental flaw in U.S. foreign policy making decisions when dealing with Muslim states in the region. Remember, Abbas just recently stated that Fatah has no major differences with Hamas, a genocidal Islamic fundamentalist regime.
UPDATE: Carl in J'lem : Obama's 'Palestinian' contradiction
Aren't borders supposed to be one of the issues on the table? Haven't we shown in the past that we will dismantle 'settlements' for real (and unfortunately even for non-existent) peace? So then why does it matter where we build?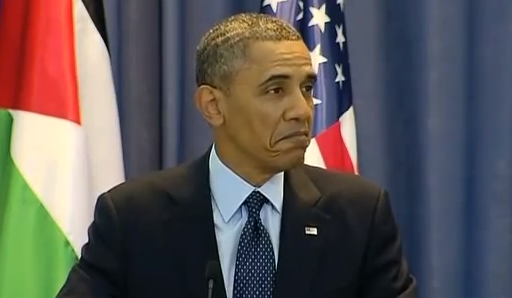 Just stated in Ramallah in joint press conference with Mahmoud Abbas, the fake president of the P.A. 21.03.2013