And to be a slave to the sharia, is to be an anti-Semite.
And intolerant of everybody else whose not a Muslim. Regardless of all the 'religious dialogue' that Islamic leaders like to play up, when it comes down to the nuts bolts of it, they have to lie, bald faced, in order to advance their agenda of spreading Islam and Islamizing the non-Muslim and not-so Islamized Muslim communities.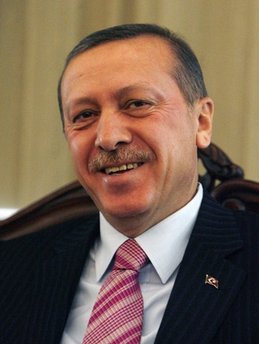 Zip: "I hope they're not just figuring this out now."
Erdogan: 'I Am a Servant of Sharia'
Spring is about to begin and my book, Spring Fever: The Illusion of Islamic Democracy, has just been published in paperback — originally, it was available only as an eBook. To mark these occasions, and more importantly, to elaborate on why the "Arab Spring" is really the ascendancy of Islamic supremacism (as Spring Fever foretold and as each day's news confirms), Ordered Liberty will be running some excerpts in the coming days. Here is the first:
"Thank God almighty, I am a servant of sharia." It was 1994, and Recep Tayyip Erdogan was proud to proclaim his Islamist roots in his native Istanbul, where he served as the mayor – or, as he customarily described himself, the city's "imam."
Erdogan's star was rising in Turkey's political firmament, thanks to his mentor, Necmettin Erbakan, trailblazer of the country's modern Islamist politics. In fact, it was as president of the Istanbul Youth Movement, the shock troops of Erbakan's "National Salvation" party, that Erdogan first made his mark. The main vehicle for his renown was a 1974 theatrical production called Maskomya. It was both virulently anti-Semitic and, this being Turkey, sadly popular. The prodigy, then twenty years old, not only wrote and directed the play but performed the lead role, as well. As Andrew Bostom recounts, "Mas-Kom-Ya was a compound acronym for 'Masons-Communists-Yahudi' – the latter meaning 'Jews.'" In Erdogan's telling, the common denominator of these evil, conspiratorial groups was Judaism.