Obama-Tut marches to his own destructive tune.
Barry Rubin: "One Middle Eastern saying that has become widely known in the West is that the enemy of my enemy is my friend. In the Obama era, this has been transmuted into: The enemy of my friend is my friend. No, wait! U.S. policy has gone even further than that to: The enemy of myself is my friend!"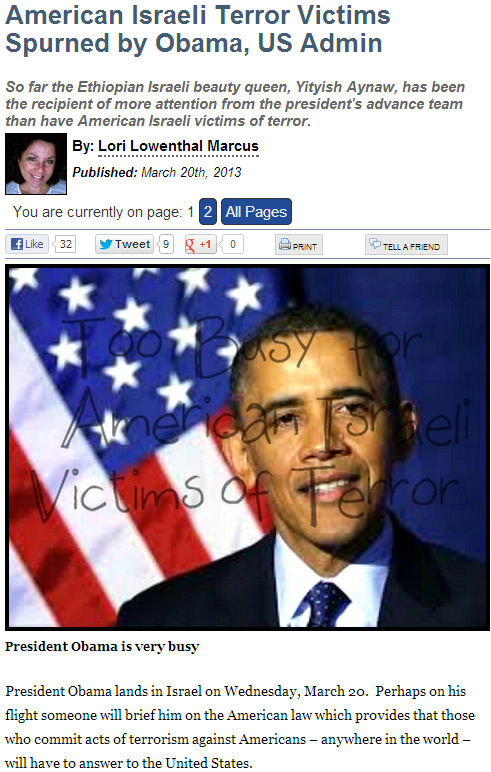 Right now terrorists must know that the U.S. is all talk, because despite the ever-increasing number of American victims of international terrorism, the U.S. rarely saddles up, heads out, and "gets their man."  It certainly has never done so when the perpetrator of overseas terror against an American was a Palestinian Arab.
President Obama will only be in the Middle East for three days, starting Wednesday, March 2o. But while the time pressure will force him to skip certain sites, it is hard to imagine a better use of his time than to meet with American Israelis who have been terror victims and whose pleas for assistance can be easily met.
That is, unless this president, like the past several, and all of the US congress, doesn't think it is absolutely essential to pursue terrorists who have maimed and murdered Americans abroad.
A section of the federal anti-terrorism law allows the U.S. to investigate, extradite (where there is a relevant treaty) and prosecute those who are believed to have murdered or maimed Americans in acts of terrorism committed outside of the United States.
This law was passed in 1985, following the brutal point-blank shooting death of Jewish American Leon Klinghoffer by Arab Palestinian terrorists who boarded the Achille Lauro off the coast of Egypt.