In what should be a real gut retching experience.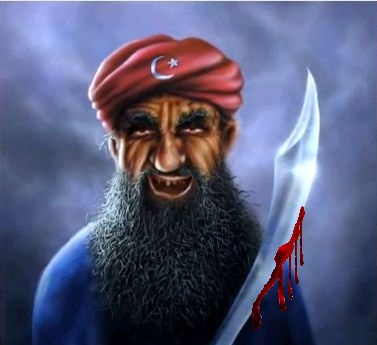 I guess the big money has been found after all for the Mo-project reported on back in 2009. The big money production is a major dawa effort by the Qatari, and they have a Hollywood stooge doofus to help it out. The ax grinding irony of having uber-liberal Hollywood helping out in the production of a movie by anti-liberal 7th century Qataris  about their loathsome 'prophet' Mohamed, shouldn't be lost on anyone.
NOTE: That it includes the equally loathsome Yusuf al-Qaradawi, who as a devout Muslim believes Mohamed to be the supreme example of human behavior, and has talked about how much he would love to murder Jews, should tell you all that you need to know about the project.
H/T: Holger Danske
Lord of the Rings producer on board for Qatari biopic on Prophet Mohammed, Iran to create rival film
Published: Sunday, Mar 17, 2013, 22:31
The fear of controversy has failed to deter two film-makers from Iran and Qatar, who are producing a pair of rival biopics on the seventh-century Prophet of Islam.
As a protagonist, the Prophet poses a unique challenge, as much of the Muslim world forbids his depiction on screen, reports The Independent.
Iranian director Majid Majidi, whose 30 million-dollar biopic began shooting last October, reportedly intends to show parts of the Prophet's body, though not his face.
Cairo's Sunni-led al-Azhar University has already demanded the unfinished film be banned.
In December, in Sunni-majority Qatar, Alnoor Holdings, the media arm of al-Hashemi construction group, announced plans to spend 1 billion-dollar on its own series of epic movies about the life of Mohamed.
The team has hired the Islamic theologian Yusuf al-Qaradawi and producer Barrie Osborne as technical advisers.